David Benson's Haunted Stage
Written and performed by David Benson
Unity Theatre, Liverpool
(2005)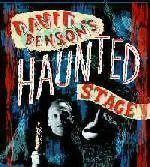 Scaring an audience has to be the toughest thing you can achieve on stage, and David Benson comes close with his Haunted Stage.
The first surprise for some will be that it isn't about haunted stages at all; it's more an eerie family history of Benson's own family. A curious mishmash of personal reminiscence, pantomimic audience participation, and potted classic ghost stories by the likes of MR James and Benson's possible relative, EF Benson, Haunted Stage shows Benson's skill as a story teller to fine effect. Beginning the piece by making us promise that we will, for the evening at least, believe in spooks, Benson leads us on a rather muddled journey through his relationship with his storytelling grandfather, through the nature of fear, specifically the fear of ghosts, finally to the fear of death, specifically his own.
The show suffers from a lack of focus, which is a shame as it contains a number of excellent performances from Benson and some memorable moments, but it can fall into self-indulgence, particularly with Kev the medium and the frankly overworked "something nasty in the corner". Benson is at his strongest with his whistle stop tour of classic gothic horror; particularly the MR James piece Oh Whistle And I'll Come To You My Lad, and the genuinely moving recounting of his grandfather's death.
Haunted Stage contains some fine moments, but as a whole it doesn't quite work; the central thesis isn't developed, and the shift from comedy to audience participation to story telling and back prevents any real involvement in any one part. Benson's a fine performer and an excellent raconteur, and some parts of Haunted Stage are genuinely scary, but the mood is broken too frequently to hold, and on balance you're left wondering if Haunted Stage really knows what it wants to be.
"Haunted Stage" is on tour until the 20th May.
Reviewer: Ged Quayle