D.O.B.
Devised by Fluid Motion Theatre Company
University of Winchester
(2010)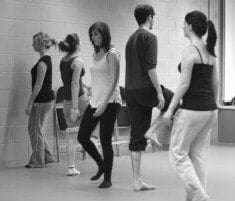 Fluid Motion Theatre Company is a young emerging professional company that aims to push boundaries, challenging stereotypes with a focus on communities and reflecting the society in which they live.
Their summer project involved taking Shakespeare to the shoppers in Basingstoke and around town centres in Hampshire.
Their latest production D.O.B. at the University of Winchester was an intriguing concept exploring human relationships, identity and stories. As you entered the auditorium the six actors were walking round the sparse black set with chalk drawings and messages scrawled on the wall with various suitcases on the stage and a soundscape of traffic noises filling the space.
The performers begin collectively to reveal some information regarding themselves and the contents of their suitcases. There are glimpses of their lives, their dreams and aspirations.
One of the actors tells us, " You are an audience, we are performers but this is our story" and through a series of monologues and physical theatre we learn about their individual stories.
Jason Bradwell plays the youngster from South Africa arriving to a new country with a dream of eating mushy peas. There is the mother (Ali Gill) who talks about her children and their lives. "I don't regret moving" she says, " I regret not giving them time to say goodbye."
There is Ally, the barmaid of the Blacksmiths Arms, and the foreign speaking girl who relates her tale in Danish and the girl who is asked to take a suitcase for a fellow passenger on a flight with embarrassing consequences, and a powerful dance piece performed on the floor.
The movement work is skilfully choreographed and strongly performed by the company including Sophie Holliday, Emma Prothero, Julia Evans and Jenell Rogers with swinging and passing and banging of suitcases that obviously meant much to the actors but didn't really move the narrative on, which was a pity.
Tom Corry's relentless sound design was varied but overpowered the actor's ability to project and moments without music would have helped the audience to concentrate on the characters' monologues.
The amalgam between movement and acting doesn't quite gel in this production with characters that are presented as lightweight stereotypes and the audience are never really given an opportunity to understand them in any depth. It would have been wonderful to learn more about these people.
Director Leigh Johnstone created a theatrical gem with a dramatic ending when all of the suitcases were individually lit. There is much potential for this piece to develop into a powerful drama.
Reviewer: Robin Strapp