Between the Devil and the Deep Blue Sea
Suzanne Andrade
1927
The Project Cube, Dublin Dublin Theatre Festival
(2007)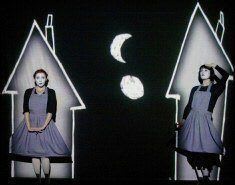 This delightful number by the gifted company 1927 is for me the diamond in the rough of this year's Dublin Theatre Festival. After their multiple award-winning 2007 debut show at the Edinburgh Festival Fringe, the company have enjoyed a successful world tour and have finally graced the stage in the Project Arts Centre in the heart of Temple Bar. The four members of this company display diverse and skilled talent throughout this production, managing to combine 1920s live cabaret music, and performance, mime, darkly comic poetry, silent movies and quirky animation. The entire show is oozing with charm and sinister humour.
The three women on stage take on different roles to create an entirely animated cabaret. Lillian Henley composes and performs the music on the piano and occasionally makes her presence known from the corner of the stage singing or having tea and gingerbread man breaks. Suzanne Andrade directs, writes and performs in the piece and presents us with ten wickedly amusing vignettes. Esme Appleton designs the costumes and performs all of the mime sequences including The Nine Deaths of Choo Choo Le Chat and also alongside Andrade.
However we cannot by pass the incredibly skilled talent of Paul Barritt who created the film, animation and design. For me this makes it a five star show. The crackling screen displays some brilliantly witty animation and silent movie scenes with imagery that ranges from devils and angels, the wild woods, the shipwrecked seas and the tweedy world of the fading aristocracy. There are so many classic moments in this entire show and I find it impossible to pick out a favourite. My favourite vignettes included The Biscuit Tin Revolution, where the gingerbread men revolt against their pastry chef and overthrow a kingdom using icing guns as weapons. Another highlight was the sinister sister's tales of their 'playmates'. There are so many excellent one-liners in this section including 'Granny had pretty pink eyes, like a rabbit with myxomatosis'. The two superficially sweet/ evil sisters list their lost playmates including the lodger, their au pair and then look upon the audience to find a playmate.
This show has been compared to Shockheaded Peter, David Lynch, and Edward Gorey with a twist of Weimar cabaret. 1927 have produced a cabaret at its finest. It is a genius creation. I urge you to see it.
Reviewer: Lynn Rusk