Dance Theatre of Harlem 2004 UK Tour

Theatre Royal, Newcastle, and touring
(2004)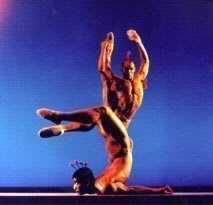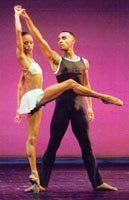 Journalists are notoriously cynical, and reviewers can be the most cynical of the lot (except perhaps political journalists - but that's another story), so when you hear words like "phenomenal" being bandied around in the Theatre Royal's Monnet Room (where the management feed us interval drinks to keep us sweet!), you know that something special is happening. That something special is the Dance Theatre of Harlem's 2004 UK tour.
The DTH style is unique, classical ballet à la Balanchine with a very American feel: modern, exciting and a world away from the "pretty pretty" popular image of Swan Lake and Giselle. The programme they are presenting at the Theatre Royal (for two nights and one matinee only) shows off their versatility brilliantly.
They opened with Dougla, an incredible fusion of ballet, African and Indian dance. Portraying a Dougla wedding (the Dougla people are of Trinidadian mixed African and Indian race), the dancers, in spectacular, albeit simple, costumes, accompanied by a driving drum beat, mix point work and a range of classical ballet moves with African body movements and Indian hand and head gestures to tremendous effect and left the audience cheering after twenty minutes which passed in a flash.
Choreography, music and costumes were all by Geoffrey Holder.
Reviewer: Peter Lathan