The End of Everything Ever
New International Encounters (England/Germany/Czech Republic/Poland/Belgium/Norway). Co-produced with the Junction in Cambridge
Imaginate Children's Theatre Festival
Traverse, Edinburgh
(2007)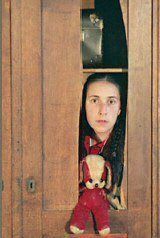 Although billed as part of the Imaginate children's festival, it's clear from the outset that NIE have something other than history lessons up their sleeves with their rendition of true accounts of the Kindertransport - in which over 10,000 Jewish children were saved from the Nazis by escaping on trains across Europe. As the audience enter to the stomping and whooping of a gyspy trio, shots of fiery liqueur are dished out by a charming 1930s couple, and a surprising atmosphere of festivity fills the room.
This mirth and merriment sets the scene for a gutsy and heartbreaking journey from Berlin to Wales, through the eyes of 6-year-old Agata and her stuffed toy-dog Milos. Beginning with the loving mayhem of Agata's eccentric family, sober references to the growing dangers outside slowly creep in, before the decision is made to send Agata abroad for her own safety.
The cast then mug their way through a wild array of endearing caricatures, from neurotic English couple Vivien and Jonathan, to the hyper-grotesque Hitler as a nightmare train conductor, with props and costume changes visible, and slapstick stage effects actively performed. Most notable are the tragi-comic talents of Agata (who in this achingly egalitarian-no-programmes company goes un-credited, even in the company press pack!) but whose huge innocent eyes and astonishing range of facial expressions carry the weight of what is happening alongside a mischievous appetite for fun and games.
It's this blend of self-referential clowning and subtle sincerity which makes The End of Everything Ever a brilliantly successful piece of theatre, and not only for children. By wholeheartedly bashing to pieces the 4th wall, NIE demonstrate the importance of pageantry and artifice both in their own storytelling and within the real life story of the play, and consequently repeat and re-iterate the presence of imagination in everyday life.
In one of the warmest and saddest scenes, Agata, newly crowned a 'Princess', and her 'Prince' Milos are presented with 'magical diamond necklace' nametags to protect them on their train journey. In a darker moment, the family game of 'hide in the wardrobe' turns horribly sinister when Agata, adopting a red hat to maraud as an evil police officer, starts to become the character she is playing, bringing her uncle to his knees. When she takes the hat off she is Agata once again.
The layers of storytelling are constantly shaped by live music and sound effects, brought off with panache by a multi-talented and multi-lingual cast of five different nationalities, who adopt drums, accordion, fiddle and trombone. A recurrent motif of alarm clocks going off intercepts their playful antics with an uncomfortable reminder of the time bomb ticking away for Agata's family back home in Germany. But resisting the urge to make explicit any of the atrocities taking place, the tragic dénoument is understated and sincere, and the whole piece all the more powerful for being told through the eyes of a child.
Bronagh Taggart reviewed this production at BAC
Reviewer: Lucy Ribchester