Madama Butterfly
Giacomo Puccini
Chisinau National Opera
Ellen Kent and Opera International Bristol Hippodrome and touring
(2006)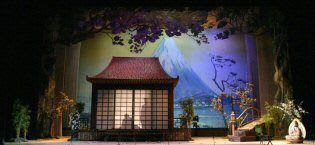 Madama, or Madame, Butterfly, one of the most popular operas of our time, had a distinctly rocky ride at its premiere in 1904 at La Scala in Milan. Although the work itself was revised from two to three acts, splitting the disproportionately long second act, perhaps part of the reason for the poor reception was its distinct difference to many other operas. Butterfly is marked by its intimacy, eschewal of spectacle and its confinement to one house in Nagasaki. In addition, there is only one plot with no sub-plots: girl gets boy; girl loses boy and girl kills herself. (Does a Puccini heroine ever live, let alone happily after?). What gives Madame Butterfly wings, however, are the skilful characterisations, principally of the two lovers, Pinkerton and Butterfly, and the rich orchestration which Puccini studded with wonderful arias.
The production seen at Bristol is one of two new stagings by Ellen Kent and Opera International, who have been bringing opera (and ballet) to the regions since 1985, collecting a clutch of awards in the process. In fact this production won the 'Best Opera' award in the 2006 Liverpool Daily Post Theatre Awards. The Chisinau National Opera production certainly offers a rewarding night; the staging is handsome to look at with some individual scenes which linger in the mind; there is some fine singing, notably by Maria Tonina as Madama Butterfly, and the heart is duly wrung. Yes, the play is schmaltz but schmaltz set to glorious music – Puccini deemed it his best work. However, while this production undoubtedly takes flight for such famous arias as "Ah! Night of Rapture", there are some bumpy moments along the way in the early scenes.
That events will turn out tragically is spelled out from the start by Pinkerton who announces his intention to hold Butterfly "even if I crush her fragile wings". And his wish to be able to terminate the lease on the house he has rented for himself and his bride at short notice is echoed by his determination to remain free to quit Butterfly, should he so wish, and take an American bride, despite the warnings of his friend Consul Sharpless, a strong performance by Vladamir Dragos. Andriy Perfilov as Pinkerton, sporting a dodgy David Seaman-style ponytail, starts less promisingly, coming across as rather wooden in his movement, and both men sound decidedly strained in an early duet during some sustained fortimissimo singing before recovering well subsequently.
No such reservations about Tonina who is unfailingly mellifluous and surefooted, nor the design, by Felix Bessonov, which is gorgeous. Their traditional paper and bamboo home foregrounds a painted backdrop of a mountain with spreading trees left and right and two, rather noisy, water features. As the evening wears on the lights dim and, amid this loveliness, there is an unforgettable moment when Cio Cio San, as Butterfly is called, is silhouetted against the light inside the house, arms spread, like a giant moth, as her maid helps her change out of her kimono, the image prefiguring her words to Pinkerton, shortly afterwards: "I have heard how in other countries men catch butterflies and pin them to a board." Zarui Vardanean lends fine support as Cio Cio's maid, Suzuki, and as the second act unfolds, the production tightens its grip and moves remorselessly towards its inevitable climax, the tympani drums at the climax sounding the death knell for Butterfly.
The opera has not been without its critics in recent years for what is perceived as a 'colonial' 'sterotypical' and even 'racist' attitude towards Asia. One feels something of that; but more so, disquiet at both Puccini's penchant for giving his heroines hell and at Butterfly's age which is said to be 15. Ultimately though one is swept along by Puccini's wonderful music which a packed audience received very appreciatively.
Reviewer: Pete Wood