Die Fledermaus
Music by Johann Strauss the Younger, libretto by C Haffner and Richard Genee
Translation: (sung text) Ruth and Thomas Martin, (spoken text) Olga Gusan, adapted by Ellen Kent
The Chisinau National Opera Ellen Kent and Opera Interational Sunderland Empire and touring
(2006)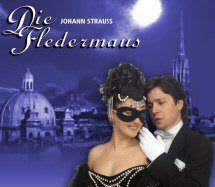 Die Fledermaus is an operetta but the birth of this production, premiering at the Sunderland Empire, was more of an epic.
When Ellen Kent first decided that it should be added to the repertoire, she thought it should be sung in English. That was the first shock to the systems of the Moldavan singers, but they agreed and set out to learn a new piece in a language few of them understood. Shock two was the discovering that the available English version did not include the spoken parts, just those which are sung. However Ms Kent came across a Russian version which general manager Olga Gusan agreed to translate into English, a translation which was then adapted by Kent.
And of course these are opera singers - and very talented and experienced ones too - but operetta is a different animal and requires the performer to learn a new style.
So here was a German operetta, translated into Russian and then into English and sung by a cast who had little or no knowledge of the language. A hard task for anyone, but then, on arriving in Sunderland for the production's first night, Serghey Zuyenko, who was to play Dr Falke, developed a viral infection and so the understudy, Anatol Arcea, had to go on in his stead - a shock to the system for him but also a problem for the whole company.
Enough problems for any company to face? You would think so, but the orchestra pit at the Empire is one of the deepest anywhere and so the cast would have great difficulty watching the conductor, even though he was raised up somewhat on a rostrum. The wonder was that they actually got the show on.
And then, after the first three lines, the surtitle machine broke down!
It would be fair to say that what the Sunderland audience saw was essentially a dress rehearsal, with all that implies - some fumbling over words, some mistiming, perceptible pauses between cues being given and the orchestra coming in, some problems with the balance between orchestra and voice - but there is a good show there underneath the problems and the majority of the audience were generous and warm-hearted in their applause.
There are some good performances: Maria Tonina's Adele hits the right mischievous tone in "Mein Herr Marquis" (I know the German lib but not the English!) and Irina Vinogradova is more convincingly seductive than many a Rosalinde I have seen. It's good, too, to see an Eisenstein (Andriy Perfilov) who actually looks as though he'd be attractive to women and an Alfredo (Ruslan Pacotovici) who doesn't look or behave like a comic opera caricature of an Italian tenor.
A fine performance, too, from Zarui Vardanean as Orlovsky - a little more lively than usual, with rather less ennui.
There are some nice comic touches, too. When Alfredo puts on Eisenstein's dressing gown in the first act he sings "Nessun dorma" and then, after the extremely drunken party in Act II (as the servants came in with more and more baskets of bottles, the audience rorared with laughter), one of the songs he sings in the prison scene is the drinking song from La Traviata. And Rosalinde is introduced at Orlovsky's party, not as Hungarian but as the Countess Elizabeta from Transylvania - very appropriate in a piece about a bat!
Special mention must also be made of Mihai Timofti as Frosch: to sustain a long solo comic scene such as that in Act III is difficult enough, but to do it in a foreign language and still get the audience laughing is quite a feat.
I would love to see this later in its 27 venue tour, which finishes in early December!
Reviewer: Peter Lathan