The Merry Widow
Music by Franz Lehár, libretto by Léon and Stein
English National Opera
London Coliseum
(2008)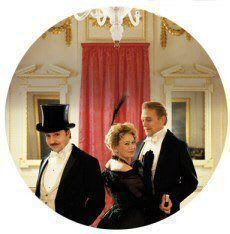 Franz Lehár's The Merry Widow was an enormous success at its premiere in Vienna in 1905 and its success was repeated in 1907 in London, New York and Buenos Aires where it played in five languages simultaneously.
Fashionable women everywhere wore The Merry Widow broad-rimmed hat. There were Merry Widow cigars, Merry Widow cosmetics, corsets, cocktails, even Merry Widow dogs.
Lehár (1870-1948) became the leading operetta composer of the day. He gave the then moribund Viennese operetta a new lease of life and he has remained as popular as Offenbach and Johann Strauss ever since.
The score has one of the most famous waltzes in the world and its infectious, haunting, tender, slightly erotic melody is repeated again and again
There have been three film versions. In 1925 Eric von Stroheim directed Mae Murray and John Gilbert, In 1934 Ernest Lubitsch directed Jeanette McDonald and Maurice Chevalier. In 1952 Curtis Bernhardt directed Lana Turner and Fernando Lamas.
The operetta is glamorous, frothy fin de siècle escapism. The very thin plot concerns Baron Zeta's efforts to save his native Ponteverdia from bankruptcy by getting Count Danilo (John Graham Hall) to marry Hanna Glawri (Amanda Roocroft) and so ensure that her 20 million francs do not leave the country. The sub-plot concerns the Baron's young wife's flirtations with a French diplomat.
The Merry Widow belongs to the permissive era of Klimt, Freud, Schiele, and Schnitzler. The production could do with a bit more cynicism, along the lines of Danilo's question to a bankrupt farmer's daughter: "What was it that attracted you to the septuagenarian millionaire?" But the satire at the expense of Austrian-Hungarian high society and its decadence is so tame as to be invisible.
John Copley's production – conducted by Oliver von Dohnanyi – is traditional and uninspired. Dierdre Clancy's costumes are pretty when they should be sumptuously and wittily full-bosomed. Tim Reed's sets are poor and look as if they have been deigned for touring rather than the West End.
It is difficult to hear what is being sung. The show-stopping number, "Who can tell what the hell women are?" is appallingly choreographed with each member of the sextet doing his own uncoordinated and amateurish thing.
Amanda Roocroft sings "Vilja" in Act 2 affectingly but neither she nor John Graham Hall has the sexiness and chemistry Hanna and Danilo's high comedy scenes need.
Richard Suart is amusing as the very nearly cuckolded Baron Zeta. Roy Hudd is given his own music hall number. The grisettes and the can-can could do with a bit more Parisian vulgarity.
This production has also been reviewed by Kevin Catchpole
Reviewer: Robert Tanitch