Don Giovanni
Wolfgang Amadeus Mozart
English Touring Opera
Everyman Theatre, Cheltenham, and touring
(2008)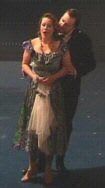 For the last 25 years, English Touring Opera has toured the length and breadth of England, bringing opera to areas without access to productions and building links to communities through outreach and education work.
In the process, it has helped showcase some of the leading voices in the country and worked with such top directors as Richard Jones and the late Steven Pimlott. It should also be added that it has done so at prices which are well within the range of just about anyone with an interest in seeing opera live.
I enjoyed last year's production of Eugene Onegin but had misgivings that Don Giovanni, a personal favourite, might disappoint, but once again the company has come up trumps with a powerful production which perhaps skimps on the comedy in favour of a particularly dark take on a dark comedy.
In truth the decision seems at odds with an essay in the programme which is at pains to point out that while the opera is indeed "not a barrel of laughs", it does have "plenty of laughs" and offers both 'hilarity' as well as 'hellishness'.
Director Jonathan Munby, who has worked extensively at the Watermill Theatre, Newbury, and for the RSC, updates the production to the 1930s or 40s - fascist salutes are thrown at one point - which makes sense of Don Giovanni's power over the villagers, but the concept is not referred to again.
The darkness at the heart of the work is made visible with Guy Hoare's crepuscular lighting and Soutra Gilmour's impassive, three-walled exterior. But if the production values here are not high they are more than made up for by the cast and, in particular, Roland Wood's imperious, villainous Don. There is no attempt to sugar his perfidy; this Don positively delights in his sinfulness.
And, as reprehensible as his actions are, such is his chutzpah that, as with that other figure of vice, Richard III, we thrill to his refusal, at the last, to heed the exhortations of the statue of the Commendatore to repent, which scene brings the evening to a powerful and glorious conclusion. Some, however, may find Munby's staging of Giovanni's departure a little underpowered. Instead of being dragged down to hellfire, he is merely carried off by the cast.
Still, with as fine a performance as this in the central role - Wood's voice is strong and effortlessly commanding - this is, perhaps, a minor quibble. There is also excellent support from Andrew Slater as the Commendatore, a chilling presence at the last, while Laura Parfitt is a feisty Donna Elvira, Julia Sporse impresses as Donna Anna, as does Ilona Domnich as a coquettish Zerlina. The only real disappointment was Jonathan Gunthorpe as Don's servant, Leperello, who started somewhat weakly, vocally, the 'Catalogue' aria, an early highlight, going for little, but he got stronger as the performance went on.
I confess that I baulked somewhat at the prospect of hearing Don Giovanni in English, but my qualms were largely soon forgotten. Acknowledgement, too, to fine and spirited support from conductor Michael Rosewell and his ensemble.
Don Giovanni is one of three works currently being toured by the ETO in an ambitious programme which also includes Donizetti's Anna Bolena and the UK professional touring premiere of Carlisle Floyd's 20th century musical drama Susannah. The company return in the autumn with an adaptation of Bizet's every-popular Carmen and a chamber version of Dvorak's Rusalka.
Recommended.
Reviewer: Pete Wood