The Grapes of Wrath
Adapted by Frank Galati from the novel by John Steinbeck
English Touring Theatre
Birmingham REP
(2009)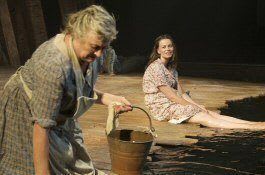 Stephen Unwin who founded English Touring Theatre turned it into one of the top theatrical companies in the country. When I saw his production just before he left ETT of the Jacobean revenge tragedy The Changeling by Thomas Middleton and William Rowley - a play he believes to be the greatest tragedy in English after Shakespeare - I wrote that he'd be a hard act to follow.
Before that I'd seen his superb production of King Lear, with Timothy West in the title role, in 2002 at Buxton Opera House and his pacy, uncluttered Hamlet with Ed Stoppard in the same venue in 2005.
Now Rachel Tackley has taken over from Unwin as director of ETT. Her mission is to make the company a home for some of the country's leading theatrical figures and create a range of ambitious productions to tour throughout Britain and abroad. On the strength of The Grapes of Wrath, she's well on her way to achieving that aim.
It's certainly ambitious to put Steinbeck's seminal work on the stage: the Joad family's tortuous, 2,000-mile trip from Oklahoma to California in search of work and their subsequent realisation that it's not "the land of milk and honey" would test the most inventive creative team. Former REP artistic director Jonathan Church, designer Simon Higlett and lighting designer Tim Mitchell have come up with a first-class interpretation with few flaws.
A sloping stage signifying a continual uphill struggle, a backfiring truck, fires and a rain storm show just how exacting life was for the Joads.
The leading theatrical figures are Christopher Timothy and Sorcha Cusack who shine without totally dominating what is after all an ensemble piece featuring more than 20 actors.
Timothy is excellent as Pa Joad, the man who wants the very best for his relatives yet always has to make do with something less. His grief when he accepts responsibility for his family's falling apart as they go from one tragedy to another is extremely moving.
Cusack (Ma Joad) is delightful as the matriarchal rock who knows that eventually her offspring will realise she's giving them sound advice about their various dilemmas.
There are also strong performances from Damian O'Hare as Tom Joad, on parole from prison for killing a man in a brawl and whose fight for justice for those around him puts his own safety in jeopardy; and Oliver Cotton as Jim Casy, the lapsed preacher who struggles to find a role for himself in society. In fact there are no weak links at all in the cast.
Occasionally there's a rogue American accent and the first fight sequence lacked authenticity - surprising really when the second brawl was especially realistic.
There've been changes to The Grapes of Wrath along the way: when my colleague Sheila Connor reviewed it at Chichester Festival Theatre it was more than three hours long; now it's been trimmed to just over two-and-a-half hours, not including the interval. In its shorter form it appears fresh, inventive and relevant throughout.
It's a production which has huge aspirations - and on the evidence of the performance I saw at the REP, English Touring Theatre have pulled off a large-scale success.
"The Grapes of Wrath" runs until October 31st before transferring to West Yorkshire Playhouse, Leeds and Hall for Cornwall, Truro
Ray Brown reviewed this production at the West Yorkshire Playhouse
Reviewer: Steve Orme