The Hypochondriac
Molière, adapted by Roger McGough
English Touring Theatre
Yvonne Arnaud Theatre, Guildford, and touring
(2009)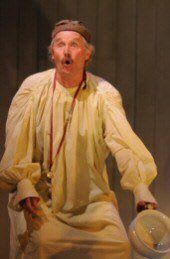 The explosive fart that echoes around the theatre at the beginning of this play, followed by the entrance of a night-shirted man carrying a chamber pot, sets the tone for the lavatorial humour to follow - a type of comedy reputedly near and dear to the British hearts and something to be expected when the story concerns Argan, a man obsessed with the state of his health, and most particularly his bowels.
Molière, who had been suffering for some years from an unidentified pulmonary infection, created the part for himself and ironically, in 1673 while playing the title role he collapsed on stage and died a few hours later. He would have appreciated Spike Milligan's proposed epitaph: "I told you I was ill!"
Molière's popular comic satires poked fun at everyone, even in this case himself and, in The Hypochondriac, concentrated mainly on doctors - their pomposity, ignorance, excessive fees and use of Greek and Latin to confuse their patients. As he put it, "They know their classics - how to terrify you in Latin", but other vices are not ignored. The duplicity of priests, the avarice of lawyers, greed, deception, vacuous romantic love and the nonsense of what amounts to an 'honorary degree' are all covered.
Although in the first scenes Roger McGough's rhyming version seemed a little halting and the poetry did not quite flow, this excellent cast soon got into their stride though and with Gemma Bodinetz's pacy direction, produced a show to delight the audience, with their expressive features saying much more than simply the dialogue, although some of the rhymes caused laughter in themselves. Try "'Tis criminal - women'll be offended" and "sullied" with "bullied". With a nod towards its French origins 'knock, knock' jokes became 'frappe, frappe' with suitably groanworthy responses.
The characters are one-dimensional and exaggerated beyond belief with Argan's manipulative wife Beline professing undying devotion while re-organising his will to her own advantage. In the manner of the best comically emphasised melodrama, Chris Porter (a man of many roles) becomes a rather camp lawyer with his lustful eye on Beline, played with imposing operatic grandeur and wicked intent by Brigid Zengeni.
Leanne Best, as down-to-earth, impudent maid Toinette, brings a bit of commonsense to the proceedings, despite her impersonation of an Italian doctor with wandering moustache, and Clive Francis is outstanding as Argan, bewailing the extortionate fees charged by the apothecary and planning to marry off his daughter to a doctor to get his treatment for free.
Toby Dantzic is the intended young doctor Thomas and he twists and contorts himself into a frenzy with a tiresome, Greek-spouting, monotonous speech that received a well-deserved spontaneous round of applause. Whoever is taking centre stage the knack is to watch the expressions of the other participants - most particularly Lucinda Raikes as sweet and innocent daughter Angelique on the lookout for romantic love. The one she has set her heart on is Jake Harders' rakish Cleante, and one of the funniest scenes is their coded duet, danced with a plethora of fol-de-rols to Conor Linehan's infectious music.
The combination of silliness and very clever word play, as well as a mixture of French and English and a strangely relevant reference to a most efficacious 'medicinal compound' from the song 'Lily the Pink', with Argan by then becoming his own doctor, ensure a very happy ending.
Reviewer: Sheila Connor