Far From the Madding Crowd
Thomas Hardy, adapted by Mark Healy
English Touring Theatre in association with Exeter Northcott
Yvonna Arnaud Theatre, Guildford, and touring
(2008)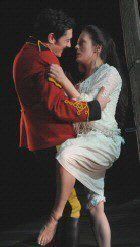 Hardy's 19th century novel of lives and loves in a rural community was depicted on screen in 1967 with a very impressive starry cast, some sweeping landscape photography – and a lot of sheep. Could the same story, with its many contrasting locations, be enacted on stage without the benefit of space – or sheep?
Well, the very inventive creative team includes three who worked together on the stage version of The French Lieutenant's Woman – a story which they told from the point of view of the author struggling to control his characters. This time designer Libby Watson has created an intriguingly intricate multi-level set, suggesting the skeletal outline of a large barn, but doing duty also as every other location necessary, and giving the impression of the performers travelling vast distances as they weave in and out – at high speed I might add! The play is almost three hours long but proceeds at a cracking pace – hardly time to draw breath from one scene before the next is precipitated into view.
The story is told as much – or perhaps even more – through music, movement, dance, sound and lighting as through dialogue. Movement, by Georgina Lamb, enhances and emphasises every mood, from the sensuous pleasure as a couple weave their bodies around each other to the jolly country dance style celebrating a harvest or a wedding, and Gary Yershon's music, played on fiddles, flutes, etc . Is equally evocative and very beautiful, while Kate Saxon directs a very fast-moving production.
Oliver Fenwick and Duncan Chave (respectively Lighting and Sound) have created some vividly realistic effects, giving depth and meaning to the story which, briefly, concerns Bathsheba Everdene (Rebecca O'Mara) and her three very diverse suitors. Bathsheba has inherited her rich uncle's farm and intends to run it herself, despite being a 'woman in a man's world'. Vain and capriciously flirtatious, she rejects the true and constant love of shepherd Gabriel Oak (Phil Cheadle) as being beneath her. She would love to be a bride, but without the necessity of a husband – a sentiment many young girls seem to agree with! Cheadle, incidentally, performed athletically and kept his accent well, even when balanced on a ladder with no visible support while covering hay ricks at the height of a storm.
Her next suitor is rich landowner William Boldwood (Stephen Billington). Coming to love late in life (although Billington is very young) he becomes totally obsessed - but he too is rejected. It is when Bathsheba meets the dashing, sword-wielding Sergeant Troy – excellently portrayed by Adam Croasdell in seductive scarlet uniform – that the tables are turned and it is she who is obsessively passionate while he is of the 'love them and leave them' mentality.
The film had me captivated - Alan Bates, Peter Finch, Terence Stamp - very hard acts to follow, although while Julie Christie may be exceedingly beautiful I could have slapped her for her simpering flirtatiousness, and I preferred O'Mara's interpretation. Smaller parts deserving praise are Laura Ephinstone as maid/companion Liddy, and Gareth Williams as down-to-earth farmhand Joseph Poorgrass, injecting a little much-needed comedy into the action, while Jennifer Bryden is Fanny, the tragic lost love of Troy's life.
Although there was excellence in the staging and multi-layered presentation, the production overall failed to engage me, sometimes bordering on the melodramatic, and with over-long periods of dialogue, although I may have been in the minority as everyone else seemed to enjoy it immensely .......not counting the gentleman next to me who dozed off once or twice. I expect he enjoyed the rest.
Touring to Malvern and Brighton.
Peter Lathan reviewed this production in Newcastle
Reviewer: Sheila Connor