Mother Courage and Her Children
Bertolt Brecht, translated by Michael Hoffman
English Touring Theatre
Gala Theatre, Durham, and touring
(2006)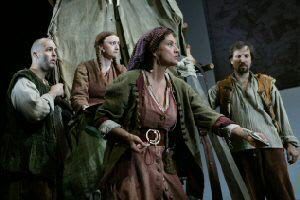 Big themes require big plays and Mother Courage and Her Children, which deals with the effects of war on the "little people", is the perfect example of the big play: Brecht's Epic Theatre. We follow twelve years in the life of Anna Fierling, Mother Courage, as she treks across central Europe during the Thirty Years War, selling to the armies and losing her children as she goes. It's a long piece - three and a quarter hours, including two intervals, in ETT's production - and Mother Courage herself (Diana Quick) is on stage for most of the time.
It's also the perfect example of the Brechtian technique Verfremdungseffekt (alienation). We are told what a scene is going to be about before it starts. The action is interrupted (or perhaps "underscored" is a better word) by songs, lit by footlights. The set is nothing more than a huge map of the fighting area hung in front of a white cyclorama. Scenery, stylised rather than realistic (except for Mother Courage's very realistic cart), is moved on and off the stage in front of our eyes. The lighting is flat and harsh. The pace is unrelenting. In short, there is nothing to make us identify (or empathise) with the characters. We are constantly aware that we are watching a piece of theatre.
We do, however, sympathise - with all of them, for they are all caught up in this hideous war machine and, given that it's there and there's nothing they can do about it, they try to get the best out of it for themselves.
While it is a personal triumph for Diana Quick, that should not be allowed to overshadow the contribution made by the other twelve cast members, most of whom are also rarely off the stage in one part or another, between them portraying a huge range of characters. Stephen Unwin's direction is, as always, very clear, allowing the play to speak for itself whilst getting the best from his actors.
Sheila Connor reviewed this production at the Yvonne Arnaud, Guildford, and John Thaxter at the Richmond Theatre
Reviewer: Peter Lathan