Mother Courage and Her Children
Bertolt Brecht, translated by Michael Hofmann
English Touring Theatre
Yvonne Arnaud Theatre, Guildford
(2006)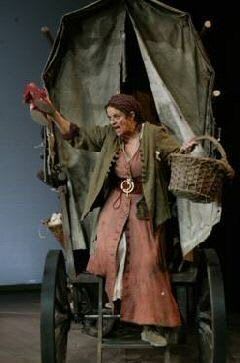 What is the purpose of war? Is it for religion, for power – or purely for business? There are those who use it to make their fortunes. Brecht, himself a victim of war, wrote this play in 1939 inspired by the invasion of Poland, but he placed it in the thirty years religious war beginning in 1624. It is regarded as his masterpiece.
There is no chance of Mother Courage making a fortune as she and her three children trundle their wagon among the soldiers of whichever army happens to be to hand, selling whatever is available, but she needs a war to make a living and she is perfectly happy to change her religious allegiance to suit the circumstances. Peace will ruin her.
This Mother Courage is Diana Quick, already an award-winning actress, and for my money well on her way to another award for her stupendous performance in this three and a quarter hour production where she is hardly off-stage for a moment. She lives the part, inhabiting her character so completely credibly that the audience is drawn into her struggle for survival, admiring her indomitable spirit as she fights to protect her children from the rigours of war, while depending on that war to enable them all to survive. She will cheat and lie if necessary – and can you blame her! Business and war are inextricably linked, a fact emphasised in a scene with her washing strung out between wagon and cannon.
The backdrop is simply a centrally hung map of Northern Europe where the wide-ranging war took place, and what seems to be a small army of scene-shifters whisk props on and off under cover of dim lighting and sounds of music or fighting, while the wagon trundles endlessly around following the hoped for source of income, pulled at the beginning by sons Eilif and Swiss Cheese, while mute daughter Kattrin sits aloft. Surprisingly the scene shifting is not intrusive; there is too much emotional content to absorb before the next scene begins.
Although war is her business, it is also her ruin, as one by one her children fall victim to its horror. Each from a different father, and with very different personalities, brave and confident Eilif (Samuel Clemens) is executed for a deed which would be praised in war, but condemned in peace. Simple-minded younger son Swiss Cheese (Youssef Kerkour) loses his life through being too honest and conscientious, and one of the most chilling scenes is of his mother refusing to recognise his dead body. The soldiers must not know the agony that she is feeling, and her scream is silent.
In the dramatic climax she loses the last child. Poor mute Kattrin, full of compassion and love for others, warns of approaching soldiers by strangulated screams and frenetic drum beats, in an astounding performance by recent graduate Jodie McNee managing throughout to convey her feelings simply by body language.
Excellent support too from Tom Georgeson as the Cook, Gina Isaac as the prostitute who uses her body and her wits to improve her station, and, of course, Patrick Drury as the Chaplain, sanctimonious in peace but ready to abandon his religion to save his skin.
Under Stephen Unwin's expert direction this compellingly dramatic, emotional and stimulating anti-war production will stay with you long after the final moment when the scream of a fighter 'plane shocks into the realisation that war is still with us – whatever the reason.
Touring to Durham, Buxton, Richmond, Cambridge, York and Brighton
Peter Lathan reviewed this production at the Gala Theatre, Durham and John Thaxter at the Richmond Theatre
Reviewer: Sheila Connor