Uncle Vanya
Anton Chekhov, translated by Stephen Mulrine
Engish Touring Theatre
Northern Stage, Newcastle, and touring
(2008)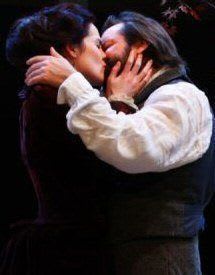 When one arrives at a theatre to see the foyer plastered with notices that the leading man has broken his leg and will be replaced by his understudy - and, in particular, when one has heard such glowing reports of said leading man - then the heart does tend to sink. That is what happened at Northern Stage last night. It was, therefore, with a little trepidation that I sat and waited for the play to begin.
However, from the moment he walked onstage, understudy Mark Extance proved himself an excellent Vanya. Sometimes Vanya can be overshadowed by Astrov but not here: both Extance and Neil Pearson (Astrov) tugged equally on the audience's heartstrings. In fact, this is a true ensemble production, with each character, even the desperate-to-please and often, it has to be said, irritating Waffles (a nice performance here by David Ganly), coming into sympathetic life. Even Faith Brook's Maria Vasilievna excites our sympathy as she desperately clings to her belief in the greatness of her beloved Serebryakov (Ronald Pickup).
Michelle Dockery makes us warm to her Yelena in spite of her indolence, enabling us to empathise with her over the hopelessness of her life with Ronald Pickup's exasperating and totally self-centred Serebryakov.
There are two rocks on whom the rest depend for something approaching stability: nurse Marina and Serebryakov's daughter by his first wife, Sonya. As Marina, Antonia Pemberton gives us a woman who has accepted her life and achieved a kind of serenity, whilst Loo Brealey gives a sensitive and affecting performance as Sonya, who shares Marina's innocence and inner steel. Her acceptance of the death of her dream of receiving Astrov's love and her determination to keep going is deeply moving.
Alison Chitty's minimalist light and open set, nicely complemented by Peter Mumford's lighting and a delicate soundscape from Gregory Clarke, establishes the tone: we are not bludgeoned into gloom by oppressive heaviness. Peter Hall's light directorial touch allows the text and characters to speak for themselves and the cast respond magnificently.
One might call Uncle Vanya a comedy of wasted lives: a whole household has been dedicated to supporting a career (of Serebryakov) which is merely medicore, passions are strong but unfulfilled and attempts to find some kind of fulfilment are doomed to failure. The defining incident is Vanya's failed (twice) attempt to shoot Serebryakov: like Constantin's attempted suicide in The Seagull, the emotion reaches boiling point but makes no difference. This is a classic Chekhov moment, with all the character's pain and anguish precipitating laugher in the audience. Is there any greater tragedy than this, that our passions are ultimately a cause for laughter?
But perhaps Chekhov's view of his characters' lives is best summed up in the final moments of the play when, after all the emotional trauma, Vanya and Sonya settle down to work, for what else is there to do but go on living?
The combination of the man who is arguably Britain's finest director and a superb cast make this a Vanya to be treasured. Don't miss it! Its final two stops are Milton Keynes and Malvern.
Philip Fisher reviewed this production at the Rose of Kingston, as did Sheila Connor at Guildford, Cecily Boys at York and Pete Wood at Malvern
Reviewer: Peter Lathan