Uncle Vanya
Anton Chekhov, translated by Stephen Mulrine
English Touring Theatre
Yvonne Arnaud Theatre, Guildford, and touring
(2008)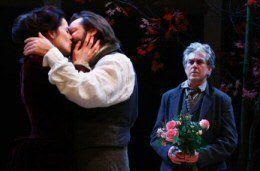 This play was chosen to open the newly constructed Rose Theatre at Kingston, and it might seem a strange choice for those who consider Chekhov to be heavy going. In other hands the dialogue could possibly become leaden and flat - the characters bored and boring - but with this cast and creative team the words positively sing, bringing forth all the comedy intended as well as the yearnings and frustrations of people who feel they have wasted their lives and will now never achieve what they long for, but are confident that the next generation will succeed where they have failed. This is brought home to us very forcibly by Doctor Astrov's justified obsession with the needless destruction of the forests, which will leave their decedents with a bleak and barren landscape and which will decimate all the animal life within, a problem which is still with us more than a century later despite all the talk about our 'carbon footprints'.
Astrov is Neil Pearson, hiding behind a great deal of facial hair, but his eyes and expressions show how passionately he feels about this subject, and also betray his infatuation with the elderly professor's young and beautiful wife Yelena, played with cool and elegant serenity by Michelle Dockery. She is bored with her uneventful life in rural Russia, but the idea of actually doing anything at all doesn't appeal to her either, in strong contrast to hard working Sonya, the step-daughter who is hardly younger than herself and who, in her turn, is deeply in love with the doctor. Sonya is Loo Brealey, showing great promise first as she hesitantly reveals her feelings for the doctor, and in the final scene she brings pathos, wisdom and acceptance to her role as she comforts Uncle Vanya with the words "We must go on living", but at the same time she is longing for the release and the rest that death will bring.
Vanya is Nicholas Le Prevost, who delivers the comic lines to perfection while bouncing around like an enthusiastic puppy which belies the turmoil and depression lying underneath. He too is in love with the beautiful Sonya. Ronald Pickup's irascible professor Serebryakov, grumbles and complains as elderly men are wont to do. The only one who can manage him is sensible Marina (a delightfully down-to-earth Antonia Pemberton), the nanny who comforts him as she would a child. She and the pamphlet-reading, elegant mother-in-law (Faith Brook) are the only characters who seem contented with their life.
Telegin (David Ganly) quietly strums his guitar and sings most beautifully.
The intention of the English Touring Company is to provide work of 'quality, clarity and accessibility' which they achieve every time, but never more so than in this superb production with each and every member of the outstanding cast giving a performance to relish. Under Peter Hall's expert and meticulous direction the play flows smoothly and engrossingly. As Chekhov intended, we are watching a piece of life in a natural setting, seemingly ordinary, but with the turbulence and melancholy of the Russian character inextricably part of the mixture of comedy and pathos. The characters often speak directly to the audience, but they are simply expressing their thoughts to themselves and it still appears perfectly natural. The characters may be bored, but the audience most certainly is not!
This production was also reviewed by Philip Fisher at the Rose of Kingston, Cecily Boys in York, Peter Lathan in Newcastle and Pete Wood at Malvern
Touring to Newcastle, Milton Keynes and Malvern
Reviewer: Sheila Connor