Where There's a Will
Georges Feydeau, adapted by Nicki Frei
English Touring Theatre
Rose, Kingston upon Thames, and touring
(2009)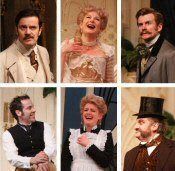 Less a farce than a farcical comedy, Georges Feydeau's Le système Ribadier has regularly played at the Comedie-Française since 1892 but is hardly known here. In fact I have only once reviewed it, back in 1980 in a fringe production at the the long forgotten Overground Theatre in Kingston.
Now English Touring Theatre has launched this rare revival in the very same town, a fragile piece of French nonsense brilliantly staged by Peter Hall with a fine cast and a lush period setting fit for the West End.
Nicki Frei's adaptation with its misleading title is otherwise fairly faithful to the original but garnished with fresh verbal wit. She sets the action in a Parisian mansion in 1895 where the mesmerist Ribadier regularly hypnotises his suspicious wife Angele, inducing a deep coma-like sleep, so he can leave the house undetected for an evening's romp with his mistress.
But this being Feydeau, Ribadier's scheme immediately starts to unravel when an old chum and rival Thommereux, played with impudent relish and hilarious pratfalls by Tony Gardner, turns up to claim the richly widowed Angele as his bride, only to discover he is two years late with his suit.
Undaunted the late claimant, determined to have his wicked way with the object of his love and lust, painfully shins up to the balcony to wake up the sleeping beauty. But at this very moment Ribadier returns unexpectedly, pursued hot foot by a vengeful cuckold, Teddy Kempner's Savient, a wine merchant more intent on getting a decent order for a cask of cognac than a duel of honour.
The ensuing events are the very stuff of a three-act Parisian comedy, as a fine cast keeps the laughs coming gently. But if the large, resonating space of the Rose Theatre is not ideal for quick-fire repartee, Hall's staging is rich in sight gags and agile playing, notably from Charles Edwards' Ribadier, perhaps ten years younger than the role requires, giving a performance of lightfooted brilliance that reminds one of his debonair aplomb as Richard Hannay in the London and Broadway runs of The 39 Steps.
There are deft 'below stairs' contributions by Nelly Harker as the pretty, knowing maid and Jason Thorpe as her coachman lover, played to bemused comic effect like Beaumarchais' Figaro. But the performance of the evening comes from blonde Sara Stewart as the put-upon Angele, delivering her asides to the audience with beautifully timed exasperation and telling body language.
Her two fin-de-siècle gowns in creamy silk and richly embroidered dark satin are a visual and fashion knockout, bringing the crowning touch of French period elegance to the lavishly designed and furnished staging by Christopher Woods which occupies the entire width of the Rose stage and will clearly need adjustment when the production reaches some of the smaller venues on its UK tour, which runs until April 11th.
Reviewer: John Thaxter