A Chorus Line
Book by James Kirkwood and Nicholas Dante; music by Marvin Hamlisch; lyrics by Edward Kleban
Guildford School of Acting Conservatoire Graduate Company
Yvonne Arnaud Theatre, Guildford
(2007)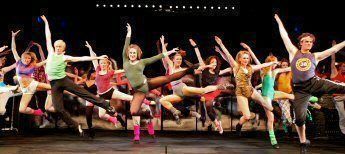 "See the stars of tomorrow today," says the advertisement for the show, and thirty four talented youngsters from the Guildford School of Acting Conservatoire Graduate Company - about to launch themselves into the big, wide, cruel world - take to the stage in a show which should give them a little foretaste of their lives from now on..
I was lucky enough to see this show at New York's Shubert Theatre in 1982 where, already a multi-award winning production, it went on to become the longest running show in Broadway history (fifteen years) finally closing in 1990. Originally conceived, choreographed and directed by Michael Bennett in 1974, the stories are those of a group of young dancers of that era, but a quarter of a century later it is as fascinating as ever and updating is totally unnecessary. There will always be aspiring performers auditioning with hope in their hearts and a desperate longing for success, having to take the pain and disappointment of rejection as well as the joys of achievement, and each with their own story of the path which brought them to this point in their lives and their hopes for the future.
The show takes the form of an audition for a chorus line of eight dancers, with director Zach (Harry Morrison) giving instructions from the auditorium, while the music reflects the longing and desperation of the dancers. "I hope I get it" and "I really need this job". Some are confident in the dance routine, but some are trying hard to remember the steps they are expected to perform with anxious sideways looks to check what the others are doing. That brings back memories!
This was a ground-breaking musical at the time, performed on a bare stage with the participants in practise clothes and no changes of costume until the final razzle-dazzle number danced by the chosen eight. Half of the aspirants are dismissed almost immediately, leaving eighteen nervously standing in line as Zach insists on hearing their tale, and most of the stories are the longing for love and success, and their dreams of what might be.
There is Paul (James Winter), with a tale of reluctant homosexuality and the heartbreak when his parents discover his secret. Sheila (Alexandra Grierson, immediately obvious for this role) was brought into dance by a pushy mother and is upfront, voluptuous, outwardly confident but knowing that at thirty her days as a dancer are numbered. Bobby, a very distinctive-looking James Rossman, is the only one from a wealthy family and he 'compensates' for his privileged background by flamboyantly bizarre behaviour, while Val (Mary Cormack), after seeing her audition results "Dance-10, Looks-3" buys herself "Tits and Ass" to help her career – which "didn't hurt my sex life neither". There is a delightfully comical song from Liza Bridge as a nervous girl who cannot sing, and her 'husband' Al (Bradley Wilson with a wonderful singing voice) who finishes her every sentence. Cassie (a slim and delicately lovely Jennifer Burrows) performs a beautiful ballet sequence with Zach as an excellent support. This is a love affair gone wrong, but they do really need each other. A little heavy on the accompaniment to her song here, drowning some of the lyrics. Each and every one has an interesting story to relate and there are tears and laughter mixed, as in life.
A really exceptional ensemble piece showing off the talents of each and every performer, finishing with the whole cast on stage in the razzle dazzle number "One" – endlessly repeating their routine - a singular sensation as the curtain slowly descends to leave them dancing forever. Exhilarating – superb!
Reviewer: Sheila Connor