The Merchant of Venice
William Shakespeare
The Guildford Shakespeare Company in association with Guildford's Yvonne Arnaud Theatre
Guildford College of Law
(2011)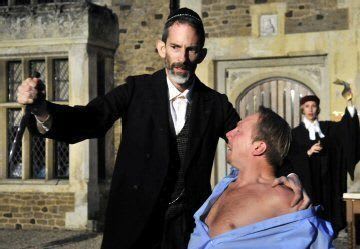 This site-specific theatre company are adept at finding exactly the right venues for their productions, often as varied as the plays themselves, and this year has been no exception. Their dramatic Hamlet in the atmospheric confines of Holy Trinity Church was a gem to be treasured, Much Ado about Nothing in the Castle Grounds a delightful romp using the bandstand and surrounds to the full, and what could be more appropriate than The Merchant of Venice in the magnificent twenty three acres surrounding the Guildford College of Law?
On a beautiful evening, in a glorious setting, and with a well set up stage taking full advantage of the venue, everything promised an entertaining production and it totally lived up to expectations.
Against a backdrop of magnificent woodland, terraced lawns, stone walls, steps and ornamental gates, designer Neil Irish has created a very effective Venetian landing stage with striped poles, ropes and boxes, achieving a magical effect as daylight fades and the scene is transformed by lights strung through the trees and between the poles.
The story covers racism, oppression, avarice, injustice and revenge, but trust GSC to have fun with it and they have set the scene in the roaring twenties and turned most of the first act into a riotous, hedonistic party where the accompanying music is not of the period but catches the spirit of the time, giving a very glamorous Portia and her equally glamorous maid Nerissa an excuse to grab the microphone and entertain the gathering with a vivacious rendition of Hernando's Hideaway. These two are so totally transformed in the court scene to black-robed judge and clerk that there's almost an excuse for their husbands' lack of recognition, and they later both have great fun berating these husbands for the loss of their rings, with Sarah Gobran's Nerissa being particularly (and enjoyably) aggressive.
Shylock is a role that James Sobol-Kelly has always wanted to play and he seizes it with both hands, commanding his scenes with authority (voice projection enough to effortlessly overcome two passing aircraft), and looking every inch the part of resentful, watchful, vulpine Jew, abused, spat-upon and reviled as hardly human yet, as he points out, the Christians are no paragons of virtue despite believing they are superior beings.
No wonder he looks for revenge, and his moment arrives when Antonio cannot repay the borrowed money. Here the atmosphere changes and both cast and audience move over to the courtroom set in front of the imposing Braboeuf Manor, fun and laughter changing to tension with spectators, as well as Antonio, on a knife edge as Shylock eagerly approaches Damian Davis's quivering, sob-racked body, the blade almost plunging into the flesh when, with perfect timing Rachel Donovan's Portia halts the action. Performances in this scene are so convincing that terror, apprehension and panic fill the night air, audience hardly daring to breathe, and Shylock's agonised wail when he loses everything brought tears to the eyes - even if he is regarded as the villain.
Matt Pinches, as always, hilariously provides comedy with his Launcelot Gobbo a riot of indecision, and he only has to appear as the Prince of Morocco (or is that Prince of Wales?) for the laughter to become uncontrollable, closely followed by Andy Cryer as a ridiculously flamboyantly Spanish Prince of Arragon contrasting with his down-to-earth Gratiano.
Audience numbers increase each season as the word goes round that this company are a force to be reckoned with and can be relied upon to provide joyous entertainment without losing sight of dramatic content. Accessible Shakespeare - that's for sure!
Strictly limited season - until 23rd July, with no performances on 18th and 19th.
Reviewer: Sheila Connor