The Lady in the Van
Alan Bennett
Hull Truck in association with Richard Jordan Productions
Theatre Royal, Winchester
–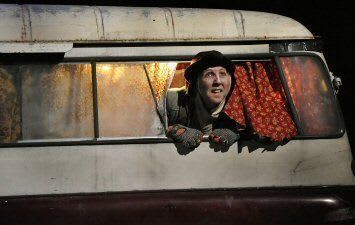 Alan Bennett is a consummate playwright and an accomplished observer of people. His The Lady in the Van is a sheer joy. It's a witty, sharply intelligent and beautifully accomplished drama.
Ben Stone's atmospheric set, an imposing black brick house with a bay window background and a desk with two swivel chairs on a parquet flooring downstage created the Bennett household in Camden, North London.
The cantankerous, eccentric and former nun, Mary Shepherd, has been living in a van on the street, slowly moving it along the road from house to house, much to the angst of the neighbours.
It finally breaks down and needs a push and ends up in Bennett's garden where it was to stay for 15 years, together with the intransigent Miss Shepherd.
Paul Kemp and James Holmes magnificently share the role of Alan Bennett in what becomes an internal discussion between the scholarly Holmes who sees the potential of the situation and the pragmatic Kemp who has to deal with the stench and the daily plastic bags of Miss Shepherd's faeces. "I wish she'd go," says Kemp. "But not yet," replies Holmes.
Bennett's mother, a poignant performance from Fiz Marcus, is suffering from depression and dementia and Bennett sums up his predicament: "Old ladies are my bread and butter."
The arrival of the van on stage driven by the outlandish Miss Shepherd who "drove ambulances in the war" was a superb piece of theatre.
Nichola McAuliffe gives a tour de force as the idiosyncratic Miss Shepherd, constantly scratching her self, but with ambitions to become the next prime minister. She gave a master class in acting as her proud independent character slowly sinks into physical and mental degradation. A superb performance.
A kind benefactor donates a new Bedford van and Mary sets about painting this new acquisition. She also has a Reliant Robin van as her 'second home'. Full credit to the stage crew for getting so many vehicles on stage and the dénouement was both unexpected and inspiring.
There is strong support from Tina Gambe as the confident, predictable social worker and Emma Gregory and Benedict Sandiford as the upwardly mobile neighbours. Martin Wimbush brought an air of mystery as the menacing Fairchild.
Tightly directed with panache by Sarah Esdaile, The Lady in the Van is a moving, funny and riveting play. Not to be missed.
Touring to Darlington Civic Theatre (13th-18th June), Theatre Royal Norwich (20th-25th June), Oxford Playhouse (27th June-2nd July), Harrogate Theatre (5th-9th July) and Alhambra Theatre Bradford (11th-16th July)
This production was reviewed by Sheila Connor in Guildford
Reviewer: Robin Strapp