I Was a Beautiful Day
Iain F. MacLeod
Traverse Theatre Company/An Lanntair, Stornoway
Traverse Theatre, Edinburgh
(2005)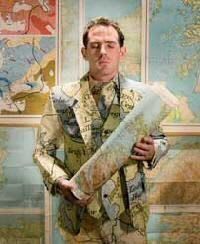 Cartography, the study of mapping, is hardly the most exciting of pastimes. Its dependency on to the physical structures and the contours of a landscape mean that by its very nature it must be dry, precise and often dull. As such it is nothing like Iain F. MacLeod's play.
I Was A Beautiful Day revolves around an ex-Gulf War soldier; Dan (played by Iain MacRae), a voluntary inmate in a mainland Scottish mental institution. Dan spends his time dreaming of his native Hebridean Island, drawing maps and writing down the stories that make up its history. Today however, he has visitors: fellow patient Lube (John Kazek), who has recently been downgraded from maximum security, and Ann, professional Cartographer tasked with mapping Dan's home island. Each needs him for their own reasons: Lube, for companionship and an ally in his surreal escape plans, and Ann to give a unique focus to her work. Grudgingly their presences are accepted, and become necessary to Dan as he is made to consider his own isolation and the possibility of returning home.
The play's greatest asset is undoubtedly the skill with which the dialogue has been fashioned into an almost anarchical weaving of observations and retorts. The interplay between Dan and Lube has a lyrical quality, served well by MacLeod's peppering of Gaelic and old Scots and the cumbersome subversions of unusual English turns of phrase.
This allows both actors to shine in different ways: MacRae is ramrod straight and cuttingly to the point at all times, his poise and energy at all times leaving no doubt about his military past and yet still showing that there is something else hidden beneath.
Kazek on the other hand is a revelation of ever-changing movement and action. He is by turns manic and docile, displaying a childlike mindset but with the rough vigour and bitter cynicism of a downtrodden middle-aged businessman.
There were few let-downs in the piece but one was the slightly stilted performance of Lesley Hart's Ann, who seemed a little uncomfortable with the dialogue, which in turn made more obvious how underwritten her character is in comparison to the other protagonists. This unevenness in the scripting of the characters left much of her dialogue, particularly the women in a man's world comments, feeling shoehorned in.
.
Reviewer: Graeme Strachan