iD
Cirque Éloize, directed by Jeannot Painchaud
The Marlowe Theatre, Canterbury
(2011)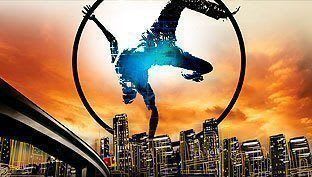 Circus. The word conjures up images of a big top, painted clowns, and candy-floss. Cirque Éloize, however, has given 'circus' a whole new definition. The company has revamped many traditional circus acts to bring a current and energetic performance to the stage.
Cirque Éloize's iD cleverly combines jaw-dropping talents with street dance and hip-hop. With the increasing popularity of urban dance, it is inevitably a successful concoction. An audience are happiest when the unexpected and seemingly impossible become reality - and that is exactly what this show delivers.
Set in the hubbub of the city, iD is the revealing of identity and the individuality of each character. The set is the performers' playground; a wall with sliding doors is the perfect tool to display their acrobatic versatility. The suspense is built with the pulse of electro-rock music, and the lighting effects are superb and completely original.
The troupe of fourteen burst with energy and enthusiasm, keeping the show lively and dynamic. Performing old circus favourites, such as the straps, contortion, aerial silks, Chinese pole, hand-balancing and juggling, each artist steps up to a new level with highly imaginative and unique acts.
Cirque Éloize gives their audience everything from the beauty of the hand-to-hand performance (where two dancers succeed in challenging balances in a stunning, flowing piece of choreography) to the dare-devil stunts by the trial bike and skating stars, and then to the humorous and light-hearted routine by the contortionist.
The group break-dancing and street routines are upbeat and create the show's fantastic fluidity. The rope dance includes back-flipping and other daring stunts using props; it is organised chaos but very exciting as performed by a large group. The trampowall finale reinvents the art of trampolining into a captivating and very entertaining act. Although the high standard was constant throughout the whole production, this was the highlight of the evening, and well deserved the standing ovation it was given.
Cirque Éloize have been delighting audiences since 1993 with their contemporary circus acts. To date they have performed in thirty-five countries for more than three million spectators. iD is the most recent of the seven shows the company has created and it has been touring the world since 2009. Artistic director Jeannot Painchaud is clearly passionate about his creation; a quality which he has passed on to his artists and which shines through their performances.
iD is a show not to be missed, it is lively and energetic with original acts performed by disciplined and extremely gifted performers. Cirque Éloize sets the bar for this style of production. 'Circus' has a new meaning.
Reviewer: Joanna Burden