Jeffrey Bernard Is Unwell
Keith Waterhouse
New Victoria Theatre, Woking, and touring
(2011)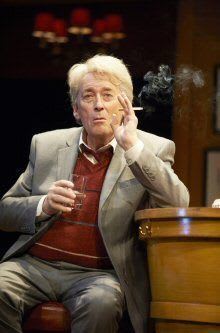 Many years ago I saw the original production of Jeffrey Bernard Is Unwell with Peter O'Toole in the leading role. Absolutely perfect casting as not only does O'Toole resemble Bernard but he indulges in a similar lifestyle with booze and debauchery playing a large part, yet with both of them wit, humour and a certain indefinable charisma attract/attracted friendship and lovers alike.
"Comparisons are odious", yet I could not help but compare tonight's production with the original and the first surprise was Jonathan Fensom's set. I have never been in the famous (or infamous) Coach and Horses pub in Soho (I must remedy that) but understood it to be a decidedly seedy joint, attracting the eccentric characters who made Soho both notorious and exciting in the fifties and sixties, yet first impressions were that it looked, although decidedly fifties in styling, much too neat and tidy. The original staging had a slightly blurred appearance with walls and furnishings at strange angles, as seen through inebriated eyes. Those thoughts are soon dispelled however as dawn is about to break and a disheveled figure staggers blearily to his feet from somewhere underneath a table, coughing his lungs out. Enough to put one off drinking and smoking for life one would think, but what better fate for a professional drunk than to be locked in a pub all night? Bernard makes the most of the situation beginning by helping himself to liberal amounts of breakfast Vodka, assuring the audience that he is not free-loading - it is all going on the 'slate'.
Over the next two hours Robert Powell, in the guise of Bernard, entertains us with random thoughts and memories all addressed to the audience, and with an exceptionally talented cast of four (Mark Hadfield, Peter Bramhill, Amy Hall and Rebecca Lacey) flitting on and off stage as they depict rapid sketches of the many larger-than-life characters (including four wives) which inhabited his world, each one portrayed with precision, accuracy and great comic absurdity.
At one time it was suggested to Bernard that he might write his autobiography - so he put an advertisement in the Spectator asking if there was anyone out there who knew what he was doing between 1960 and 1974 as he had not the faintest idea. Asked why he drinks so much the answer is that it stops him from jogging, but another reason for his irresponsible and self-destructive lifestyle was "All those characters - too good to miss a moment of", and, as we have now met a few, we can perhaps understand.
It takes a brave man to step into Peter O'Toole's shoes, and Powell takes to the role well, delivering (glass in hand) vast amounts of very tricky dialogue, yet for me the charisma and easy natural manner of the original was not so much in evidence, perhaps he has never been quite drunk enough. To be fair though, among the surrounding audience members I seemed to be in a minority of one. The 'egg trick' with glass of water, biscuit tin lid, a matchbox and his right shoe was executed perfectly - to the amazed appreciation of all.
The title of the play comes, of course, from his frequently used excuse to the editor of The Spectator when his weekly "Low Life" column was not forthcoming.
Nearing the end of a long, lonely night, and philosophising on the meaning of it all, Bernard finally decides "All is going to change, starting today. (pause) I'll drink gin instead of vodka!" Quite an epitaph!
Touring to Brighton, Milton Keynes, Malvern, Oxford, Glasgow and Richmond
Reviewer: Sheila Connor