A Christmas Carol
Adrian Berry, based on Charles Dickens' story
Jacksons Lane Theatre
(2008)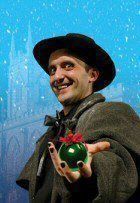 This updated version of Dicken's classic makes Ebenezer Scrooge a property developer in a town called Highgate intent on replacing a north London theatre that has been converted from a church with a shopping complex. That sounds like a story line making this theatre the Tiny Tim of Adrian Berry's reworking of Charles Dickens's tale - an appropriate idea when it is struggling following loss of a large chunk of its funding - but it is nothing of the kind, though it is a very free adaptation. A couple of years back at Tunbridge Wells, with several of the same cast, Berry did an earlier version with Scrooge in cowboy boots and Stetson. This time Andy Fox plays him as a ruthless Rachmann-like landlord and property tycoon with a past that includes a youthful romance in Barcelona and an abandoned flamenco-dancer wife and child.
There are still four ghosts: Richard Albrecht's white-faced, white-suited spectral Jacob Marley, Christmas Present (Tamsin Shasha in Mrs Steel's Avenger's leather descending from above with some stylish lisse-work), Christmas Past and Christmas Future and a puppetry Tiny Tim.
For some reason I can't fathom there is a prologue with a child being told the story by her grandmother. Grandma is a Bunraku piece of puppetry that needs a lot more rehearsal to make it work with a voice recorded by Meera Syal, but full marks to Mashana Kahn for making the little girl's conversation with a recording real.
After that opening the crude caricatures of a chorus number for street people made me dread what might be to come and at first clashed with Lizzie Wort and Gordon Warnecke's very naturalistic portrayal of Bob and Mrs Cratchit. However, the energy of a hard-working cast and the enthusiastic support of the audience won me over and with Fox's Scrooge, complete with rhyming doggerel, bridging the two styles and some clever directorial touches such as a shadow sequence for Christmas Past and a woman to whom Scrooge gives money rushing straight off to the boozer to add a suggestion of real life, the production puts its black and white moral message over. What is missing is the detail with which Dickens presents his characters and their situations. You have to take this show with the Christmas spirit in which old Ebenezer is at first so sadly lacking.
Continues until 4th January 2009
Reviewer: Howard Loxton