A Little Night Music
Music & lyrics by Stephen Sondheim, book by Hugh Wheeler
Menier Chocolate Factory Production
Garrick Theatre
(2009)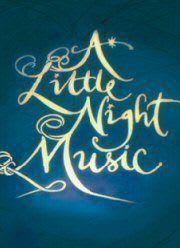 Another show at the Menier Chocolate Factory, another West End transfer and once again deservedly so. Based on Ingmar Bergman's film Smiles on a Summer Night, Sondheim's A Little Night Music, about the comings and goings of various couples, continues to amuse.
It's difficult to explain in a nutshell as the relationships on stage are as complicated as Sondheim's score, but I shall do my best. Fredrik Egerman has recently wed 18 year old Anne, ignorant to that fact his son Henrik is completely besotted with her (although Henrik is managing to pass the time with the maid, Petra). Fredrik takes Anne to the theatre so see the world renowned actress Desirée Armfeldt (failing to mention that ten years previous he had a passionate affair with the actress). They spot each other across the crowded theatre and Anne, although not the smartest girl instantly senses that something is amiss. Fredrik cannot resist a visit to Desirée's dressing room for old times sake (Anne is still a virgin and a man has his needs!) Aside from the fact he is married, Desirée is also having an affair with a Count Carl-Magnus Malcolm who is insanely jealous and of course, chaos ensues. Oh and then there is Maureen Lipman as Desirée's disapproving mother, Madame Armfeldt. That's all you're getting for now; if you want to find out more you'll have to see the show for yourself - which I highly recommend you do.
Sondheim's score is like an elegant waltz and the cast dance it beautifully as they sashay across the stage. The complexity of the music and lyrics as thy bounce back and forth is something to experience and typical of Sondheim as they duck and dive in the most unexpected manner. Hannah Waddingham as the beautiful Desirée seduces not only Fredrik but also half the audience. A force to be reckoned with, both physically and emotionally; she relishes the comic moments and despite some early criticism for her rendition of "Send in the Clowns", she is now completely immersed in the heart of the song.
Kelly Price is hilarious as the humiliated wife, Countess Charlotte Malcolm, and I'd Do Anything's Jessie Buckley is somewhat of a revelation in her West End debut. Far more suited to the role of an innocent 18 year old than Nancy in Oliver, Buckley is sweet and endearing and I'm pleased to report that she has got that annoying habit of singing out of she side of her mouth under control.
Of course I must also comment on the fabulous Maureen Lipman who delivers her lines in true Lipman style - dry and to the point as she imparts words of wisdom such as how important it is to preserve one's teeth and how you should avoid Scandinavians at all costs. As they are supported by an exceptionally strong ensemble I could mention several other stand out performances but I'd be here all day.
So often when talking about a musical, all the praise is lavished upon the composer but Hugh Wheeler's book must be given the credit it deserves. Wheeler and Sondheim's partnership is exceptionally tight. There is no clunky transition from dialogue to song that is often so apparent in musicals. Wheeler's script is incredibly droll and works seamlessly with Sondheim's score.
Sondheim is not for everyone. His complex compositions can prove a little too much for some. However, Trevor Nunn's production is so effortlessly stylish that this is not one you have to work at to enjoy. In fact I'm fairly certain that there's going to be A Little Night Music every night for the foreseeable future.
Philip Fisher reviewed the original production at the Menier Chocolate Factory
Visit our sponsor 1st 4 London Theatre to book tickets for A Little Night Music
Reviewer: Rachel Sheridan