LOFT
The 7 Fingers
Roundhouse
(2007)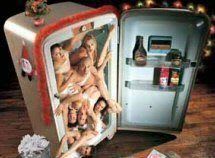 For a company that waxes lyrical about creating 'circus of an entirely different flavour', there's something depressingly familiar about LOFT, the latest UK offering of Montreal-based troupe The 7 Fingers.
True, this is no big-top extravaganza. Neither is it an epic of the sort constructed by their Quebecoise compatriots (and former employers) Cirque du Soleil. Instead, the show revolves around a group of friends stuck in their loft, who entertain each other with routines and tricks based on everyday objects.
It's an interesting enough premise. At a fundamental level though, LOFT offers little which is new. Like any other circus show, what we actually get is just a series of quite traditional numbers, only this time strung together by seven 'humanised' performers hanging-out in their underpants, calling each other by their real names, and generally acting as if they weren't being paid to entertain us.
All of which would be fine if the routines were actually any good. Unfortunately, they're really quite unimpressive. The trapeze and aerial acts were laboured, the diabolo numbers looked distinctly late-nineties, and as for the 'clowning', well, the less said about that, and the accompanying y-fronts, the better.
Perhaps worse is the attitude of the performers. The show has been touring for five years now, and it's obvious how bored the performers are with the material. At times, it felt like they were just ticking off tricks and flips in their head before dryly moving onto the next move. There was no sense of palpable excitement in their eyes, no sense that they were moving out of their own comfort zones, and little sense of danger in the air.
Ironically enough, The Seven Fingers have produced a circus show which fulfils all their ambitions of being fresh, exciting, human and truly terrifying to watch. It's not, however, the one playing in London. At this year's Edinburgh Festival the company presented five fresh, young, and hungry graduates of Canada's National Circus School in an electrifying show called Traces. Save your cash and wait until that comes to London. LOFT has gone past its sell-by-date.
Reviewer: John Cardale