Hard Times
Charles Dickens, adapted by Charles Way
Library Theatre Company
Murrays' Mills, Ancoats, Manchester
–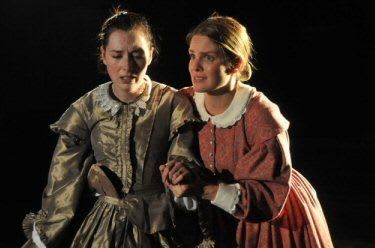 Currently without its own theatre space, Manchester's Library Theatre Company has embarked on a very ambitious site-specific production of Dickens's Hard Times in a real Victorian Mill in Ancoats.
Hard Times is set in the fictional northern town of Coketown where Thomas Gradgrind runs a school based on the strict principal of "facts and calculations" over "fancy" and Josiah Bounderby is the local mill owner who frequently tells horrific stories of his upbringing and how he raised himself up from the gutter. Gradgrind takes on Sissy Jupe, the daughter of a circus performer, at his school, much to Bounderby's disgust, and she becomes a lifelong companion to his daughter Louisa.
From this basic setting, many different story threads erupt. Louisa's brother Tom uses Bounderby's affection for his sister to gain employment and other favours from the wealthy industrialist, and when Gradgrind persuades his daughter to marry old Bounderby, she gives her brother money to feed his gambling habit. Mill worker Stephen Blackpool tries to extricate him from a marriage to an alcoholic wife and forms a bond with co-worker Rachel, but in trying to speak openly with both workers and bosses his name is blackened with both, until he is implicated in a bank robbery. And there is a great deal more besides.
Charles Way's new adaptation uses no narration—it is so refreshing to see a Dickens adaptation that isn't like having sections of the book read to you—apart from when the actors tell us what eventually happens to their characters right at the end. It also doesn't bite off more than it can chew, using only storylines that can be told in sufficient detail to make sense and tie in with other elements of the plot. It is bound to jump about between stories, but it all feels part of the same play and makes sense, carrying the audience along with a relatively large cast of characters without any confusion about who is who. The political backdrop and the terrible conditions of the workers, so important to Dickens, are also brought out well and made clear to a modern audience.
Chris Honer's staging, however, is where the real innovation lies. The Library has taken over a large section of a Victorian mill building to create a promenade piece—a style of theatre where the audience moves to different locations for different scenes—within an authentic setting. The audience is initially led in small groups to an installation, where there are museum-style representations of the interiors of houses, a workshop and a pub and a whole model town populated by actors in costume and character. It is then taken to the performance space, which is a whole floor of the mill with scenery for many different locations along both sides, finishing in Sleary's circus in a separate room at the end. While the play is running, everyone is looking around to find where the lights have come up next to work out where to walk to. There are seats, but you will no sooner sit down and it will be time to move on.
There are some very strong acting performances. Richard Heap stands out as a Bounderby big in stature, personality and bluster, opposite a very sympathetic Thomas Gradgrind from David Fleeshman, who gets some real, heartrending emotion out of his later scenes when he realises his earlier mistakes. Alice O'Connell is superb as the strong, loyal but bitter Louise whose only joy is her wayward brother Tom, played by Gareth Cassidy. Roberta Kerr gets across the flakiness of Mrs Gradgrind very well, Verity May Henry is a lovely, sympathetic Sissy, Richard Hand is great as the the schoolmaster and the gentleman from London James Harthouse, Arthur Wilson is very sinister as the epitome of Gradgrind's teaching methods Bitzer, as is Lynda Rooke as Bounderby's housekeeper Mrs Sparsit, and there is a beautiful performance from David Crellin as Stephen Blackpool opposite Mina Anwar as Rachel. There are also some impressive acrobatics from circus performers Lucy Frost and Owen Gaynor and atmospheric placement of the "community chorus" members.
Be warned that this production does involve a lot of walking and some fairly steep stairs to access the performance area, plus the delights of outdoor chemical toilets. There are times when the action in a scene is starting slightly too soon for the audience to catch up with it, but generally it works well as the action erupts from or through the audience or draws it to the next location. This does often mean that you are jerked out of the world of the play into the practicalities of moving and finding a good viewing area before others appear to block the way.
Regular Library designer Judith Croft has stepped up to the challenge of creating a lot of static sets beside one another extremely well and all look very good from much closer than the audience would normally get to view her work. The technical challenges of sound and lighting design have also been overcome very smoothly by Peter Rice and Nick Richings respectively.
Overall, if you are up to the physical challenge then this unusual piece of theatre is well worth a visit as it works well as a production, contains some great performances, is often very funny and is in a style that is far from unique but is certainly different from most theatre productions you will have the chance to see.
Note that all advance tickets have been sold as only 80 people can attend each performance, but a limited number are available each day for that day's performance from a temporary box office at the Midland Hotel in Manchester between 5:30 and 6:30pm, cash only.
Running to 2 July 2011
Reviewer: David Chadderton