Grimm Tales
Adapted from the Brothers Grimm by Carol Ann Duffy, dramatised by Tim Supple
Library Theatre, Manchester
(2009)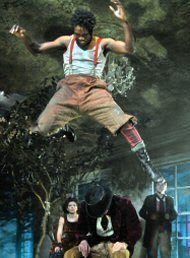 For their non-panto Christmas shows this year, both Library Theatre in Manchester and Theatre by the Lake in Keswick have opted for this collection of some of the stories at the heart of our folk tale and cautionary tale tradition in Europe.
Originally created for the Young Vic in London in 1994, a group of stories was chosen from those collected by the Brothers Grimm and retold by current Poet Laureate Carol Ann Duffy, which were then turned into a performance by director Tim Supple and his cast. The stories from that original production used by director Rachel O'Riordan at the Library are "Hansel and Gretel", "The Golden Goose", "Ashputtel", "The Mouse, The Bird and The Sausage", "Iron Hans" and "The Lady and the Lion". The short puzzle for the audience "A Riddling Tale" has been dropped, and the closing "The Magic Table, the Gold-Donkey and the Cudgel in the Sack" is replaced by an unfinished "Little Red-Cap" which originally opened More Grimm Tales in 1997. Perhaps this is a trailer for a future Christmas production.
Some of these stories are no longer commonly told, some are very similar to ones we know now although perhaps with a different title and others are combinations of familiar and unfamiliar stories. A story such as "The Lady and the Lion" has elements of Beauty and the Beast mixed with other stories, whereas "Hansel and Gretel", "Ashputtel" and "Little Red-Cap" are very similar to the stories of Hansel and Gretel, Cinderella and Little Red Riding Hood told today.
Duffy's beautiful re-tellings are turned into narration-heavy little playlets – more storytelling with dramatised parts than narrated plays – told by an ensemble of actor-musicians. The whole look of the production uses a style was quirky and original when Kneehigh started doing this more than twenty years ago, but now it has become a genre recognisable at a glance from the decaying scenery, visible musicians, sticky-out skirts, stripy socks, mismatched clothing and other telltale signs.
However just belonging to a genre is not a bad thing in itself if it is done well, and this very high quality production does it very well indeed. Gary McCann's stage design uses extreme distorted perspective and a steeply-raked floor to create a crumbling room with a tree growing through the floor and ceiling that – lit beautifully by James Whiteside – creates an immediate impression on the audience even before the performers emerge through the door, windows, fireplace and floor.
The production moves along at a perfect pace like a well-engineered piece of machinery. The actors work as a perfect ensemble, all telling stories, acting and playing instruments to a very high standard. It may be a reviewers' cliché, but it really is impossible to pick out any individuals from a cast that works so perfectly as an ensemble: Peter Ashmore, Angela Bain, Jack Beale, Sarah Groarke, Joanna Hickman, Jack Lord, Sophia Nomvete and David Ononokpono plus musician Mark Aspinall.
There are no concessions at all to this being a children's show as the tales contain death, violence and some grisly images (mostly told rather than seen but still present) acted with realistic emotions and with none of the 'Disneyfication' of these stories that later occurred due to a misguided attempt to protect children from anything mildly upsetting in fiction leaving them unprepared for upset in real life. Conor Mitchell's music certainly doesn't come close to the jolly pop music of many other Christmas shows, using string, woodwind and percussion to produce sounds that vary from lush and tuneful to harsh and atonal.
That doesn't mean that it is unsuitable for children; far from it. It adds up to a perfect marriage of music, movement, acting, storytelling and visual imagery in a slick and superbly-performed piece of theatre that is appropriate for all ages and is about the perfect length for this type of production.
Running until 23 January, 2010
Reviewer: David Chadderton