The Importance of Being Earnest
Oscar Wilde
Library Theatre, Manchester
(2010)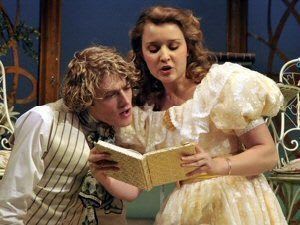 For its final production not just of the season but ever to be performed in its home since its formation in 1952, Manchester's Library Theatre Company has chosen to go back to its first ever play: Oscar Wilde's savage 1895 comedy about upper class manners The Importance of Being Earnest.
The Wildely improbably plot begins with spoiled, upper-class friends Jack Worthing and Algernon Moncrieff, both of whom have invented fictional people: the permanently-ill Bunbury gives Algy an excuse to get out of social engagements he doesn't fancy and Jack's roguish, non-existent brother Ernest allows him to be respectable Jack in the country and get up to all sorts of mischief as Ernest in town. But then Jack falls for Gwendolen in town, who will only marry a man called Ernest and whose mother Lady Bracknell, for whom the rules of society are absolute, forbids the union when she finds out that Jack doesn't know who his parents are. When Algy goes to the country pretending to be Jack's brother Ernest and falls for Jack's ward Cecily Cardew, the confusion and misunderstandings are only just beginning.
Wilde's brilliantly-witty script presents a real challenge for actors as the clever, knowing one-liners and witty put-downs are crammed together so tightly that it is almost impossible to make them sound like natural speech. Here, the actors do a pretty decent job for the most part.
In the opening scene, Alex Felton shows his inexperience as the confident, arrogant Algernon with poor diction and flat delivery, but he comes across much better later on when the scenes are less focused on him. Opposite him, Simon Harrison is much more assured as the nervous Jack Worthing. Russell Dixon drags up to play Lady Bracknell as a quieter and more cheerful character than perhaps we are used to but it works, whereas Natalie Grady's feisty Gwendolen is far more frightening than her mother.
There are two beautiful performances of nervous, middle-aged, middle class, country types by Olwen May and Malcolm James as Miss Prism and Reverend Chasuble—James's first hesitant entrance as Chasuble raises a warm smile from the audience before he even speaks—and Leigh Symonds makes something worthwhile from the two small servant parts of Lane and Merriman and raises a few laughs.
Judith Croft's beautiful set utilises the same cut-out shape over the walls in the opulent opening scene in Algy's flat and the last scene in the drawing room in the country house and is also a sort of elaborate trellis in the country garden. There are two intervals for two major scene changes between acts.
Director Chris Honer has certainly gone out on a high with this slick, funny and extremely enjoyable production of a play that can still have audiences rolling in the aisles more than a century after its first performance when the society it is satirising no longer exists.
Playing until 3 July 2010
Reviewer: David Chadderton