Relatively Speaking
Alan Ayckbourn
Library Theatre, Manchester
(2009)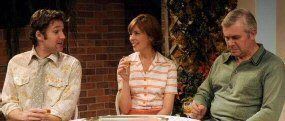 For the beginning of summer, Library Theatre artistic director Chris Honer revives Alan Ayckbourn's earliest West End hit from 1967 (originally written to entertain Scarborough holidaymakers and produced under the title Meet My Father in 1965), Relatively Speaking, which displays the wit, detailed construction, themes and even the fictional town of Pendon that the playwright became famous for.
Greg wakes up in the gaudy pink bedroom of his girlfriend Ginny in her flat in London as she rushes to catch a train to spend the day with her parents. However the mysterious telephone calls that are silent when he answers and turn out to be 'wrong numbers' when she answers, the numerous boxes of chocolates and bunches of flowers around the flat and the man's slippers under her bed several sizes bigger than his feet arouse his suspicions, despite her cool explanations. He decides to follow Ginny to ask her father if he can marry her, but it turns out that she is not meeting her parents at all but confronting the married man she was seeing before Greg to tell him to leave her alone.
This is constructed around a farce-like situation but without the breakneck pace of a farce, instead taking a leisurely stroll through the misunderstandings, conversations at cross-purposes, threatened revelations and middle-class politeness about it all. The dialogue may be a little contrived to load it with double meanings and to prevent either party from knowing exactly what the other is talking about in almost every conversation, but it is done in a very clever and funny way. Of course it all ends happily, but as one person is still in the dark about what has occurred, perhaps there is another story after this that isn't quite so happy.
Chris Honer's production has a few minor problems with pace at the very beginning, when there are moments that seem to be little more than striding about slamming doors to little purpose, but for most of the time the carefully-measured delivery and reactions work superbly. For the majority of the play in Phillip and Sheila's large suburban garden, there is a constant atmosphere of polite embarrassment as no one wants to admit that they haven't a clue what the others are on about.
Judith Croft's atmospheric set, built on a full-stage revolve, changes from the pink, 60s girl's bedroom to the elegant, spacious suburban house and garden very quickly and impressively, the walls just missing the lights over the auditorium as they turn around.
The production features a strong cast: Simon Harrison is the enthusiastic but slightly crumpled-looking Greg, Leila Crerar returns to the Library as the confident, pretty Ginny, Lucy Tregear is wonderful as polite, middle class lady of leisure Sheila who welcomes this odd stranger (Greg) into her house simply because she couldn't be as impolite as to turn him away, and has some great facial expressions as she tries to make sense of what he is on about, and Malcolm Scates as Phillip, who oscillates between indignant about the world's – and his wife's – faults, worried about being discovered, manipulative towards Ginny when he believes he has something on her and sheepishly compliant when his deceptions are revealed.
This may be a piece of light and frothy theatrical nonsense, but it is well-crafted, well-performed and great fun and an ideal piece for the summer. If this mid-week non-press-night performance is anything to go by, the Library is certainly selling the tickets for this show, and from their reactions it is giving them a great deal of entertainment.
To 20th June
Reviewer: David Chadderton