Rock 'n' Roll
Tom Stoppard
Library Theatre, Manchester
(2009)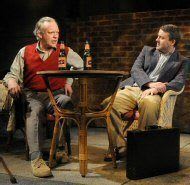 After major productions in London and New York, Manchester's Library Theatre now presents the regional premiere of Tom Stoppard's 2006 play Rock 'n' Roll.
The play is set in Czechoslovakia and Cambridge, England, and is based around real events between 1968 and 1990. The major events are, obviously, when the Soviet tanks rolled into Czechoslovakia during the 'Prague Spring' of 1968 and the 'Velvet Revolution' of 1989 in which the communist government was removed from power and writer Václav Havel became president.
Interleaved with these political events – and, it seems, considered just as important by Stoppard – are events in rock music history, from the Beach Boys concert in the 1960s to the Rolling Stones concert in 1990 that ends the play. Between these, we hear about Syd Barrett's deterioration in Cambridge and the radical Czech rock band Plastic People of the Universe's various clashes with the communist authorities.
The play centres around Czech student Jan, a student of volatile Marxist Cambridge professor Max, who returns home after the Soviet invasion to look after his mother. He settles back in his home country with his huge record collection and is completely indifferent to the political situation, despite the efforts of his friend Ferdinand to get him to sign various petitions about the erosion of freedoms, as long as he is free to listen to his music and follow his favourite band, Plastic People of the Universe. However circumstances drag him unwillingly into the political situation and he becomes a dissident, spending some time in prison. Meanwhile in Cambridge, Max's strict materialist beliefs clash with his academic wife Eleanor's need to believe that there is more to her than just a body when her body is deteriorating through cancer.
During the interval, we jump from 1976 to 1987 and the circumstances leading up to the withdrawal of Soviet control and the opening up of Czech border controls. Max is still an unrepentant Marxist who will not attribute the horrors of Soviet government to the concept of communism. Jan returns to Cambridge once again to see his old tutor and Max's daughter Esme who loved him all those years ago before he left.
The play is a jumble of subjects all thrown in together with a chronological background of real historical events providing the through-line of the plot. Somehow this does just about work, with some fascinating discussions about an incredible period of European history in living memory mixed with philosophy, politics, classical poetry and rock music. Stoppard's great wit is present throughout but does not dominate, and there is little of the winking cleverness in construction that some of his plays have.
Chris Honer's production is rather uneven, with some scenes coming across as hesitant and lacking in pace. The musical links are a bit clunky, most requiring a flat to slide on for Matt Spencer's unremarkable and sometimes quite jerky video titles to be projected onto, which sometimes is cumbersome and slow. The musical links feature some great tracks, but somehow don't feel as big and rocky and integrated as they could and the point at which they end abruptly seems to be random rather than at the most effective point.
Greame Hawley creates a sympathetic character as Jan and Hilton McRae is suitably pompous and bad-tempered as Max, although some of his abrupt outbursts seem a little too sudden. Cate Hamer is superb as cancer-ridden academic Eleanor and later as her grown-up hippy daughter Esme, and Emily Taaffe is very good as young Esme and as Esme's daughter Alice. The other members of this eleven-strong cast, some of whom have quite small parts, work well together as an ensemble.
The Library set itself a mighty task to pull together the various strands of this sprawling play with a large cast in a high profile production that has attracted some of the major national critics and the results are mixed, but despite its flaws it is perfectly watchable and occasionally impressive. The pacing will no doubt improve as the run settles down, but the company has to be applauded for bringing to Manchester an unusually early opportunity to see an interesting play from a major European playwright, and for that alone it is worth seeing.
Running to 14th March
Reviewer: David Chadderton