The Good Soul of Szechuan
Bertolt Brecht, translated by David Harrower
Library Theatre, Manchester
(2009)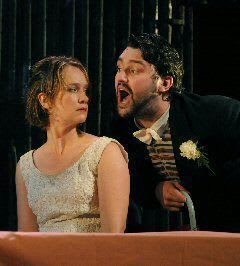 For its first home-grown production of the current season, Manchester's Library Theatre has returned to Brecht for the first time for some years and his Der Gute Mensch von Sezuan, translated here as The Good Soul of Szechuan. The text has been written by playwright David Harrower from a literal translation by Laura Gribble of Brecht's own extensively-revised script dated 1943 – Brecht continually revised his scripts and often other people's as well – rather than the original 1941 version that has been the basis of most productions of the play since Brecht's death in 1956.
Wang the water seller welcomes three gods who have come down to find out whether there are any good people left on earth. The only person willing to give the gods a room for the night is prostitute Shen Te who is rewarded by the gods for being a Good Soul, and with her reward she buys her own tobacco shop. She continues her good deeds, but so many people take advantage of her good nature that her livelihood and therefore her ability to help others is threatened, so she invents a cousin, Shui Ta, who is harder and more able to take the difficult business decisions.
Brecht's brilliantly theatrical device of an emotional and easily-led person who is able to become rational and detached merely by donning a costume and a character is explained eventually by Shen Te when she tells the gods, "It is too hard to be good to others and myself at the same time". But Brecht was not about providing explanations or answers – morally, politically or artistically – but to raise questions for the audience to debate (although admittedly he did gently nudge it in certain directions sometimes) and this concept is a fascinating one to mull over, illustrated well by the context of the story.
Just a couple of weeks after Michael Billington wrote a piece for The Guardian asking when 'Brechtian' became a dirty word, Chris Honer's production is very entertaining and intriguing, but isn't overtly Brechtian in its staging. Admittedly the characters do stop for a song occasionally, the set is not entirely realistic and there is a bit of light left on between scenes so you can just about see the set being changed, but these are softened into conventions familiar to any modern theatregoer and do not shock the audience into remembering that they are watching a theatrical presentation that they must come to an opinion on.
But does this matter? In one sense it doesn't, as the play carries the audience along with its story and its humour and the moral dilemma at the heart of it is plain to see. In another sense, the decisions made by Shen Te – a key element of 'Brechtian' theatre is pointing out that everything happens through conscious decisions made by the characters that could have been different, not as the inevitable consequences of unchangeable chains of events – are a little glossed over and are not thrown at the audience for them to question and wonder what they would have done.
The fifteen-strong cast forms quite a good ensemble. Poppy Miller is perfectly fine as Shen Te with her wide-eyed naivety and her more serious alter ego Shui Ta. Kieran Hill gives a very strong performance as pilot Yang Sun with whom Shen Te falls in love but to all others – including Shui Ta – he is a selfish egotist. Susan Twist is excellent as Mrs Shin, from whom Shen Te bought the tobacco shop, and there are solid performances from Olwen May, Natasha Bain and a slightly bewildered-looking John Cummins as the three gods and Cornelius Macarthy as Wang. The other members of this selfish community were played by Marva Alexander, James Foster, Anthony Hunt, Julie Jupp, Tarek Merchant, Josh Moran and Peter Toon. Musical accompaniment is provided live by the cast on a hidden piano and two trumpets. Design is by Michael Pavelka who designed the Library's Great Expectations and which also uses mobile partitions to change the shape of the stage area, which is effective.
Brechtian or not, the Library's latest production is an entertaining piece of theatre with an interesting moral dilemma at its core that is well worth a look.
Reviewer: David Chadderton