Dorian Gray
Devised and directed by Matthew Bourne, with music by Terry Davies
Produced by New Adventures, Sadler's Wells and the Edinburgh International Festiva
Lyceum Theatre, Sheffield, and touring
(2009)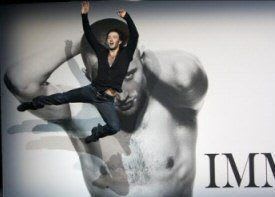 This complex dance piece was enthusiastically and elegantly presented by Matthew Bourne and New Adventures after a four year absence from Sheffield. Dorian was danced by Richard Winsor and his Doppelgänger by Jared Hageman. Their complex interaction kept the story flowing vigorously, while Dorian's responses to the remainder of the cast set out an interaction which moved vigorously through a settting made mobile by a moving stage set, rotating through bedrooms, bathrooms and sitting rooms when it was not out in the open, with the dancers interweaviing their paths with delightful grace and elegance.
A photographer, Dominic North, by clever use of camera manifested immediately by projections onto a screen, provided an extraordinary representation of the changing moods of his subject, Dorian, only to meet his nemesis latterly when Dorian used it as a lethal weapon to attack him in the bath.
Matthew Bourne explains that he took some liberties with Wilde's original story, exchanging a man, the cameraman, for a woman in one instance, and a woman, Michela Meazza, dancing Lady Hallward most elegantly, as he felt the up-to-date version would have more credibility with today's sexually sophisticated audiencees.
The five members of the band made important contributions, not simply to the dance but providing excellent musical contributions in their own right. It was undoubtedly an evening to remember, and was completed by a question and answer session by Matthew Bourne in which a number of the audience, especially the young, participated.
Peter Lathan reviewed this production in Newcastle in 2008
Reviewer: Philip Seager