A Man For All Seasons
Robert Bolt
York Theatre Royal
(2008)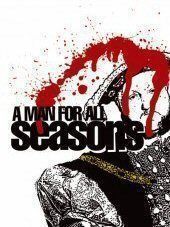 Whilst Robert Bolt's portrayal of Sir Thomas More is a somewhat romanticised version of history, director Paul Shelley gives us an exemplary production in York Theatre Royal's summer season.
Henry VIII (Damien Matthews) is without an heir and trying to divorce his first wife, Catherine of Aragon. Thus begins the legendary Tudor split with the Catholic Church and whilst Henry can rely on the support of his usual fawning or power-hungry supporters, here it is Sir Thomas More's support he wants. More's reputation as a steadfast man, true to his conscience at all costs, would bring Henry much credibility. Despite every other courtier following the King, More (David Leonard) stands alone, retains his silence and will not follow them, not even 'for fellowship'.
Shelley's production starts with the house lights up and the Common Man (Paul Trussel) wandering in through the auditorium. The acting is faultless throughout this production and Trussel easily commands our attention without a flicker of a change in the lighting. The Common Man provides the materialist contrast to David Leonard's impeccable More. Leonard (better know to York Theatre Royal as the annual pantomime baddy) is calm, collected and considerate as More, with the perfect amount of 'impudence' that makes Bolt's More a witty adversary for the fickle king. In this world he provides an astounding example of a man true to the world within, never swayed by the changing seasons outside.
It is Cromwell (Mark Frost) who becomes the King's bloodhound, out to bring down More any way he can. Frost is threatening and manipulative to a tee, doggedly pursuing his prey to the end. More cannot even be persuaded by his family, wife Alice (Penelope Beaumont) and eldest daughter Meg (Jessica Manley), or his best friend Norfolk (Andrew Forbes). All three characters are perfect, and deeply affecting in their struggle to convince More the man, rather than the politician, to change his mind.
Whilst all the actors cannot be mentioned here, Stephen Marzella's oily Chapuys and Tim Daish's 'man on the make', Richard Rich, also stand out.
Designer Nigel Hook sets this all within a starkly, functional set - like More, here he does not need extraneous detail. The scaffolding and long walkway in grey provide, as it were, a space for the mind, with Richard G Jones's strong backlighting really setting the characters in relief at the end.
This is bench mark production for the Theatre Royal, a powerful piece of drama to provide enrichment to any thinking person's theatre.
Reviewer: Cecily Boys