Everybody Loves A Winner
Created by Neil Bartlett, Simon Deacon and Struan Leslie
Manchester International Festival
Royal Exchange Theatre, Manchester
–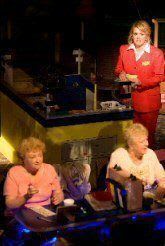 For its contribution to Manchester International Festival 09, The Royal Exchange has been turned into a bingo hall and recruited Neil Bartlett, director of the MIF 07 hit The Pianist, and a cast of twenty actors.
In a struggling bingo hall, stressed manager Linda tries to generate some enthusiasm in her staff: depressive bingo caller Frank and trio of young assistants with a sideline in close-harmony singing: miserable Debbie, ironically-named Joy and innuendo-loving Joe. The other fifteen actors enter for the free morning session at the bingo hall, then the theatre audience is taught how to play bingo with a free session before playing a real game – if you are over 18 and buy a 50p bingo card – during the evening session after the interval between sections of dialogue.
The first thing to be aware of is that the show timing in the festival programme is way off the mark. Although quoted as 110 minutes, we were warned that it is currently running at two and a half hours depending on how long the real bingo game lasts, which was about right on this occasion taking into account the fact that the show was ten minutes late starting.
Miriam Buether's impressive design has required the removal of quite a lot of seats from the downstairs area, but the impression it creates is of an authentic run-down bingo hall. All twenty actors manage to produce quite distinct characters from the very small amount of material that many of them have to work with. There is a lot of direct audience address in the form of monologues from the main characters or chorus speaking from the bingo players, a couple of times as parodies of The Lord's Prayer. The transformation from naturalism is usually indicated by blue lights appearing under the tables.
The problem with this production is that there really isn't much to it. There is some really good comedy, some themes about depending on luck instead of making things happen for yourself, dreaming of escaping to a better life and making the best of the life you've got, and some great characters, but it's all rather sparse and repetitive and seems very stretched to fill the playing time. In the second half, it's great fun to join in with the real bingo game (with the very real prospect of winning £200 in cash) but it's hard not to join in with the characters' calls to get on with the game in the scenes between as the audience is sat, dabbers at the ready, listening to things they've already heard before.
Sally Lindsey is perfect as put-upon manager Linda and Ian Puleston-Davies is superb as Frank, near to a breakdown with a lot of affection for his 'ladies' and for whom everything is 'like life', and both are great at working the audience. Warren Sollars puts across the sex-obsessed Joe, who believes he is God's gift, very well, with equally good support from Amanda Henderson and Emily Alexander as co-workers and fellow singers Joy and Debbie.
Overall, it's an evening of bits of things that don't cohere into a single piece of theatre. There are bits of 'slice of life' naturalism mixed with monologues that make a stab at the kind of poetic working class naturalism that Jim Cartwright excels at but don't really come close, innovative audience participation, northern comedy and some themes whose surfaces are barely grazed all jumbled together in a script that could easily lose an hour to become tighter, more coherent and less repetitive.
Running until 1st August
Reviewer: David Chadderton