Dr Dee
Rufus Norris and Damon Albarn
Manchester International Festival
Palace Theatre, Manchester
–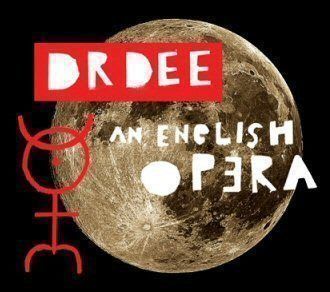 Manchester's flagship festival opens with this brand new piece Dr Dee, subtitled "An English Opera", from former Blur frontman Damon Albarn—no stranger to MIF—and National Theatre associate director Rufus Norris with movement from Frantic Assembly, a co-production credit for English National Opera and pit musicians from the BBC Philharmonic. With names like this in the programme, this is a production that wants to be noticed.
It tells the story of Dr John Dee, who was born in 1527 the son of a servant of King Henry VIII, studied many different subjects and built up a library larger than most kings possessed and became an important advisor to Queen Elizabeth I, but he also experimented with séances with a medium called Edward Kelley. He is said to be the inspiration behind Marlowe's Faust and Shakespeare's Prospero.
In fact it doesn't really tell Dee's story in any coherent way—the above came from programme notes and publicity materials—as narrative isn't this production's strong point. There are some striking images created by director Norris's aesthetically-pleasing and quirky arrangements of people and objects, aided by Paul Atkinson's set design and Katrina Lindsay's costume designs, which all marry together perfectly. Albarn's music juxtaposes many different styles of playing and singing from his own familiar pop singer's voice to the operatic voices from the actors, which actually works very well. But as for plot... well, I wasn't the only one asking others at the interval whether they knew what was going on (I didn't hear anyone answer "yes").
Albarn is a constant presence, sat on a step for most of the time with his guitar on the musicians' platform above the stage watching over the action and singing some of the songs. He looks like a man who is not used to being on stage while someone else is the centre of attention, so when he isn't singing he is rocking in time with the music, playing air drums or mouthing the words of the songs, which can be a little distracting. When he is singing, it is the familiar warm, Essex tones familiar from his other work with some very nice songs, but the action on stage seems to be illustrating the songs in the manner of an abstract pop video rather than the songs carrying the onstage story forward, and as neither pop singers nor opera singers are generally good at putting across the words clearly it can be difficult to link the two.
Apart from Albarn's there is a good range of voices on stage, particularly on the male side from the beautifully rich baritone of Steven Page as Walsingham to the impressive countertenor of Christopher Robson as Kelley and the Bishop. As for the acting, the performers are really just puppets in the hands of the director as they are moved from one abstract set piece to the next, but they all execute their instructions effectively. Even Bertie Carvel as John Dee doesn't really have a great deal of acting to do, but it is difficult to fault what he does. A special mention must go to Scooby who plays the raven; well, he is a raven in fact, and he opens the show very effectively with a scene-stealing entrance and the most natural performance in the production.
Technically the show is very impressive. The design looks wonderful, with some particularly effective use of long paper screens based on the design of the books at the start, which are flicked through like a Slinky spring toy. Paul Arditti somehow gets around the usual acoustic nightmare of the Palace with a beautifully clear and rich sound design that even sounds good upstairs in the circle. Lysander Ashton's video and projection design is subtle but effective and blends perfectly with the set design and Paule Constable's lighting. Even the platform holding many of the musicians is an impressive piece of engineering that raises and lowers very smoothly and quietly.
But is it worth spending up to £45 for a ticket? There is much about it that is impressive and fun and you get to see Damon Albarn singing live with the BBC Philharmonic (that alone could set you back considerably more money if it were a concert) but there were many times that I found my attention wandering because there was no narrative that I could find to pull me along. At one point, a deadpan Queen Elizabeth was floating in the air with a dress as wide as the stage while people wearing balloons danced under her, which was a beautiful stage picture that meant nothing to me. Perhaps it was me not getting it; perhaps it is just aesthetically pleasing but meaningless images; or perhaps it is Art.
Running until 9 July 2011
Reviewer: David Chadderton