The Ground Beneath Her Feet
After the novel of the same name by Salman Rushdie. Composer: Victoria Borisova-Ollas; librettist: Edward Kemp; film by Mike Figgis
Bridgewater Hall, Manchester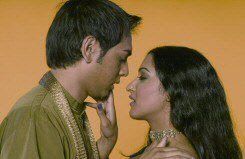 The Manchester International Festival brings another fusion between different artforms in a one-off concert at the Bridgewater Hall composed by Victoria Borisova-Ollas based on Salman Rushdie's novel The Ground Beneath Her Feet, featuring film, two singers, a live narrator and a full orchestra.
Librettist Edward Kemp has stripped down Rushdie's novel to a core love triangle between the volatile, adventurous Vina, rock singer Ormus and photographer Rai. Ormus falls in love with Vina but promises he will not touch her until she has reached the age of 16 years and a day, but Rai, who is younger than either of them, is also in love with Vina. Ormus and Vina finally consummate their relationship, but when Ormus proposes to her, Vina tells him she will always love him but he will not be the only person she sleeps with, then she leaves India to travel the world. When he eventually catches up with her, they team up as an influential rock duo, but he insists on ten years of abstinence between them until they marry.
The music comes from Manchester's world-famous Hallé Orchestra, conducted by Mark Elder, in its purpose-built home, the Bridgewater Hall, with the addition of a rock trio on guitar, drums and electric bass. The narrative is split three ways: the visuals come in the form of film clips created by film director Mike Figgis on a screen behind the orchestra, featuring Tehmina Sunny as Vina, Christopher Simpson as Ormus and Harri Dillon as Rai; narration is supplied by the rich, seductive tones of stage and screen star Alan Rickman as Rai; spoken and sung voices of Vina and Ormus are supplied live by mezzo soprano Loré Lixenberg and baritone James McOran-Campbell. This actually works reasonably well; even in its severely cut-down format, there are a lot of twists and turns in the plot even though it lacks depth of emotion and characterisation, and although there are times when the narrative drops out for a musical interlude or the lyrics aren't quite intelligible enough to follow, it is not too difficult to follow the story.
The film clips, which come in and out throughout the piece rather than being constant, range from atmospheric stills (in fact apparent stills are rarely really stills as we see the characters blink, which is an effective touch) to form a backdrop to whole scenes with little or no sound. These are very effective and have been judged perfectly to add to the whole experience rather than distracting from the other elements.
Where it doesn't quite work is in the blending of the world of rock with the concert orchestral music in a story described as 'the first great rock 'n' roll novel of the 21st century'. Even the addition of three rock musicians doesn't ever add a rock 'n' roll feel to the score, and the operatic voices of the two singers never sit comfortably with the popular music style of some songs or their roles as members of a great rock music duo.
The whole experience is not just a concert and not quite theatre or cinema but blends all of these elements together effectively into an entertaining storytelling experience. As someone more used to hearing over-amplified theatre orchestras in acoustically-dubious theatres, it is very nice to hear the natural sound of a great 80-piece orchestra in a great concert hall while still enjoying a theatrical narrative.
Reviewer: David Chadderton