That Day We Sang
Victoria Wood
Manchester International Festival
Opera House, Manchester
–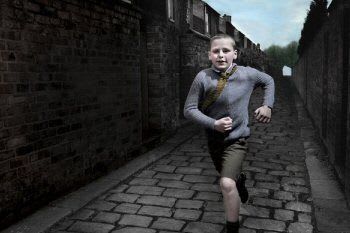 For her contribution to the Manchester International Festival, Victoria Wood recalled a documentary in the 1970s about a Manchester Children's Choir in 1929 that had stuck in her memory, but on finding the real thing she discovered that it wasn't quite as she remembered it.
In 1929, the 250 young members of Manchester School Children's Choir recorded a famous 78RPM record of Purcell's Nymphs and Shepherds on the stage of Manchester's Free Trade Hall (now, as Wood puts it, "somewhere under the breakfast buffet at the Radisson") accompanied by the Hallé Orchestra, which went on to sell a million copies. As the 1970s documentary wasn't as rich with biographical data as Wood thought she had remembered, this play is not entirely the story of that recording but a fictional tale with that real event at the heart of it, stuffed full of the types of characters and funny lines and parodies of bad television that Wood's fans will be familiar with.
That Day We Sang begins at the Free Trade Hall in 1969 for the filming of a local news item to mark the fortieth anniversary of the recording, but a half-hearted approach to contacting past members has turned up only four of the 250 children: pompous Frank Brierley and his house-proud wife Dorothy, insurance salesman Tubby Baker and PA Enid Sutcliffe. The four continue to meet up, including a memorable scene with a full song and dance routine at a Berni Inn, until the latter two, both unmarried although Enid is having a "secret" long-term affair with her boss, cannot bear the Brierleys any longer. The play then turns into a will-they-or-won't-they middle-aged romantic comedy, interspersed with flashbacks to the story of how young Tubby joined the choir despite his mother's objections.
It is an odd combination of play and musical, as for the first half of act one all the music comes from songs that the characters know they are singing as they are part of the choir (or "diagetic" music if you want to be technical), and then suddenly Tubby and Enid break into a narrative (non-diagetic) song in the middle of Piccadilly Gardens. It's not that it doesn't work, but it does give you a jolt as you readjust to a world where characters break into narrative song where they haven't previously. However Wood demonstrates great skill as a songwriter and especially as a lyricist, combining songs with dialogue effectively and coming up with some wonderfully-funny rhymes.
There are plenty of Wood's typical pompous, self-important characters, jobsworths, people who attach great importance to trivialities (the basis of most of her comic characters) and nostalgic references to products and places. A spoof local TV news item owes a lot to the documentary parts of Acorn Antiques in her TV show; the noddies—the reverse shots that show a presenter nodding at what an interviewee is saying but which are actually filmed separately—are particularly cringeworthy.
Just as Woody Allen always has a Woody Allen character in a film even if he doesn't play it, Enid is a Victoria Wood character but played brilliantly by Jenna Russell, who gives a showstopping performance of the song about the banality of her name in the manner of "Mr Cellophane" in Chicago. Gerard Horan and Lorraine Bruce are perfect players of Wood's characters, getting all of the humour from the Brierleys and also from Enid's boss and colleague. There is a lovely tender performance from Vincent Franklin as Tubby Baker, and young Raif Clarke gives a superb performance as Tubby as a boy. Alison Pargeter is also very good as the choir's enthusiastic teacher and conductor Gertrude Riall.
Lez Brotherston's design recreates the stage of the Free Trade Hall and the costumes of the two different periods well. There are some small issues with the sound, as the mics have a tinny tone to them and sometimes were not on when they should have been, which was less of an issue when the tremendously-loud Opera House air conditioning went off. The newly-formed Manchester Schools Children's Choir from Crab Lane, Pike Fold and Bowker Vale primary schools plus the Co-operative Academy of Manchester accompanied by the Hallé Youth Orchestra produce an impressive sound, especially when joined by the adult cast at the end.
Victoria Wood doesn't appear to have any of the high artistic ideals that are behind some MIF events, and as a result has created something that may have its flaws but is accessible, funny and very entertaining, is the MIF event with the strongest ties to the city whose name it bears and may have a lasting legacy of a new Manchester Schools Children's Choir.
Until 17th July
Reviewer: David Chadderton