Martha, Josie and the Chinese Elvis
Charlotte Jones
Birmingham Repertory Company
New Victoria Theatre, Woking, and touring
(2007)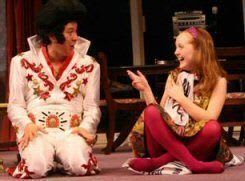 The unwieldy title gives way to an unwieldy story. There's a little bit of everything in this show, be it farce, comedy, voyeurism or pathos with some very poignant moments to touch the heart. Briefly, Martha is an Irish religious repressed cleaning lady, Josie is her boss – a closet dominatrix "putting the M & S into S & M" – and the Chinese Elvis is self explanatory.
Paul Farnsworth repeatedly challenges any stage management team, this time with a very detailed set of a suburban living room with a garden beyond and enormous patio doors which are in constant use. Added to this a side door has to withstand multiple knockings, bangings and slammings. A nice touch too is the front curtain depicting the front of a couple of thirties style semi detached houses, which is rises to show the questionable activities taking place inside.
Could this tale have been inspired by one Cynthia Payne who, in the eighties, was prosecuted for running a brothel from her deceptively respectable home in Streatham where elderly and middle-aged men queued to exchange their 'luncheon vouchers' for sexual favours? The court case kept the nation enthralled and amused for weeks, a film starring Julie Walters (Personal Services) was made of her life, and she is now a very successful writer and popular after-dinner speaker.
Comparisons apart, here is dominatrix Josie, a single mother with a retarded daughter, earning her living the best way she can, but Josie is approaching her fiftieth birthday and her heart is not in her work any more. Of course we are treated to the sight of her favourite client, cross-dressing dry cleaner Lionel (Derek Hutchinson) as a naughty French maid, but he soon discards this side of his character to reveal that what he really wants is a wife, and the one he has decided will do very nicely is dowdy and repressed obsessive cleaner, Irish Catholic Martha, so superstitious that she cannot go through a door or dust a table without constantly counting up to five – six is the number of the devil.
Martha is the delightful Maureen Lipman who has a seemingly effortless way with comedy that can reduce you to helpless laughter with a flick of her duster and a compulsive count, although to say she carries the show would not be entirely true. Lesley Dunlop's single mother Josie is expertly and credibly portrayed, as is Derek Hutchinson's Lionel - apart from his instant switch from client to would-be husband. There are also some touching depictions of misunderstandings between prodigal daughter Shelley-Louise (Emily Aston), and her mother; and would-be ice dance champion Brenda-Marie (Michelle Tate) may be immature and simple but shows some instinctive wisdom in her observation of human emotions.
The Chinese Elvis, introduced as a singing telegram to enliven Josie's birthday party, had the audience shrieking with laughter with his exaggerated Elvis style hip swivels and thrusts, not to mention his outrageous and varied costumes, but he too shows sympathy and diplomatic reasoning which brings people to understand each other – not an easy task when sprawled on the floor handcuffed to a table.
In the end everyone gets what they desire – even if only in fantasy – and Martha emerges like a butterfly from a chrysalis to dance an exaggerated tango with Lionel (choreographed by Strictly Come Dancing Judge Craig Revel Horwood).
Touring to Richmond, Oxford, Bath, Malvern, Cambridge, Canterbury and Windsor.
Steve Orme reviewed this production in Birmingham
Reviewer: Sheila Connor