Peter Pan
Written by J M Barrie, adapted by Peter Denyer
A First Family Entertainment Production
Milton Keynes Theatre
(2008)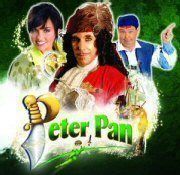 Milton Keynes has been invaded by the Lost Boys, Flying boys and "The Fonz" and the result is a lively, enjoyable panto that even the hardest of hearts will warm to.
The casting of Happy Days' Henry Winkler as The British father Mr Darling seemed to miss the target as he struggled to stay away from a Dick Van Dyke style English accent. However, as Captain Hook the casting was inspired and Winkler was brilliant, even treating the audience to a Fonz moment, which sent one theatregoer home happy.
Perhaps the strength in this panto was the timeless story; J M Barrie's classic children's book has magic running throughout it and director Ian Talbot managed to keep true to this, with characters flying, fairies appearing and the baddies disappearing into the orchestra pit.
For me, the master stroke with this performance was the casting of Andy Ford as Smee, the right hand man to Winkler's Captain Hook. Ford was excellent almost compering moments of the show and his work with the audience was funny and faultless. Ford works as a Stand-up comic and this was evident in his timing. However, it was his physical comedy skills that stole the show.
One wonders whether the performance would have been as effective without Winkler and Ford – the pirate scenes stood out as being tthe most creative, interesting and humorous.
This is perhaps a little unkind to a strong supporting cast. The lost boys were clear and concise with their line delivery – the red Indians created strong characterrs and worked well as a chorus. Their musical numbers were all danced well and managed to avoid too many Red Indian clichés.
As for music, it is quite standard as far as panto goes – there are classic pop songs ("Crocodile Rock") mixed in with ballads belted out by our heroes. Musical Director Sean Whittle has created a soundtrack that adds atmosphere to the show.
The whole design concept worked well – there can be the risk with panto that the set can suffer and represent a cartoon-like backdrop. However, this was avoided with colourful backgrounds, shadow skylines and sparkling pirate ships.
So, as expected, a professionally put together panto that does not disappoint. This one is full of fun, is uplifting and energetic as panto should be. It has those added magical elements though that make a visit to Milton Keynes' Neverland a real treat this Christmas.
"Peter Pan" plays at Milton Keynes Theatre until 18th January 2009
Reviewer: John Johnson