Mark Morris Dance Group UK Tour 2009

Theatre Royal, Newcastle, and touring
(2009)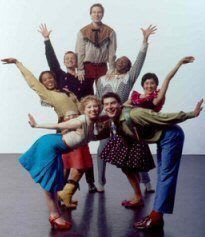 After the triumphant 25th anniversary tour of 2005, expectations were high for the company's return to Newcastle and the almost full house - this time an almost equal mixture of young and (shall we say) more mature? - was clearly ready to enjoy the evening. Clearly this former "bad boy" of dance has a following in the city.
The programme began with Italian Concerto, danced to Bach's Italian Concerto in F Major (BWV 971), played live by pianist Colin Fowler, by five dancers: John Heginbotham, David Leventhal, Noah Vinson, Julie Worden and Michelle Yard. It's a light-hearted, at times witty piece, with some nods in the direction of a number of different dance styles - I nearly laughed aloud at snippets of the sailor's hornpipe at one point.
It's a great piece to open the evening, entertaining and easing the audience gently into Morris' eclectic and "music made visible" approach.
It was followed by Going Away Party, danced to almost archetypal (and hugely corny!) country and western music by Bob Willis and His Texas Playboys. It's the only piece in the programme to be set to recorded music - Morris always prefers his music to be played live - but that's OK because the whole clichéd feel of the lyrics, the vocal style and the C&W instrumentation adds enormously to the effect of the piece. The seven dancers, dressed in cowboy gear, run through the whole gamut of western country dancing, mugging hilariously in the still moments.
For me, however, this piece went on just too long and was a little too repetitive, so the amusement I felt at the parody of the genre was bit by bit diluted and the contrast with the loneliness of the guy who was "going away", ignored by everyone else, was lost.
After the interval we had Three Preludes, danced by Brandon McDonald to three Gershwin Preludes for Piano, again played by Fowler. The dancer's white gloves and spats, together with the hand gestures, reminded me irresistably of the Black and White Minstrels and I found it difficult to move beyond that.
The final piece, Grand Duo, is named for Lou Harrison's Grand Duo for Violin and Piano, four parts of which form the accompaniment. A very modern piece - it was written in 1988 - the dance, which premiered in 1993, reflects its turbulance, aggressiveness and rapidity.
Side-lit, sometimes with the strongest light being high so that sometimes almost frantically gesturing raised hands are the most brightly lit, it has an air of the primitive about it as the fourteen dancers stamp, writhe and shake, sometimes in lines, sometimes in circles and sometimes in what seem to be (but clearly isn't!) wild, disorganised and almost random patterns. There's a tribal feel to the piece which mirrors the wildness of the music.
Reviewer: Peter Lathan