A Midsummer Night's Dream
William Shakespeare
Dash Arts
Theatre Royal, Newcastle, and touring
(2007)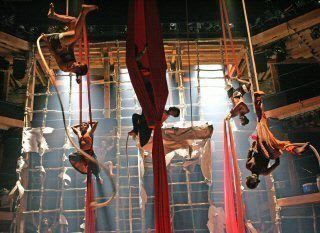 A Midsummer Night's Dream is probably the most performed of Shakespeare's comedies and must be in the running for being one of the most performed of all his plays, so one does tend to approach yet another production with something of a "Here we go again" feeling. Having heard great things of Dash Arts' production, I didn't feel quite that way but there was an element of doubt lingering at the back of my mind.
I needn't have worried. This Dream is fresh and exciting, stunning in its physicality and very funny. Not only is there a blend of languages - Bengali, English, Hindi, Malayalam, Marathi, Sinhalese and Tamil - but the production blends cultures too. Each actor brings his or her own cultural sensibility and skills to the mix and the result is breathtaking. Indian music and dance, aerial work, martial arts and a fabulous but essentially simple set by Sumant Jayakrishnan of a bamboo framework covered initially in paper out of which the fairies burst all combine to give a new slant on the Dream.
Relationships are earthy and full of a deep sexuality. When Oberon and Titania first meet it's hard to tell if their argument, both physical and verbal, is fighting or lust, whilst Hermia command to Lysander to "Lie further off" is not based on what might possibly happen but what almost did. Even the translated Bottom develops not just an ass's ears but a large, red-tipped phallus (which gives added meaning to his "Man is but a patched fool, if he will offer to say what methought I had"!) and his dalliance with Titania, suspended above the stage, was reminiscent of illustrations from the Kama Sutra.
Indeed Titania and Bottom are two of the highlights of a production which is full of highlights. Archana Ramaswamy as Titania (doubling Hippolyta) is a real force of nature whilst Joy Fernandes plays Bottom absolutely straight. There is no attempt to exaggerate the charaxter for comic effect, which actually makes it even funnier.
Of course, much depends on the way Puck is played. We've seen him in past productions in all sorts of guises from the etherial to the sulky slave Jonathan Slinger gave us in the RSC's 2005 production. Ajay Kumar, in red loincloth and mohican hairstyle, is a solid, amused presence, even when invisible, mutely inviting the audience to join in the joke.
The production has been playing since April 2006 and it is no surprise, therefore, that all the cast are comfortable in their roles and thre pace is spot-on throughout. Watching it was like seeing the play for the first time. Partially, of course, that is due to the mixture of languages used (one really does need to know it pretty well to fully appreciate it) but mainly because it allows us to see it through other eyes and another sensibility, and what a joy that is!
Touring to Bath, Oxford, Edinburgh, Salford and Plymouth
Pete Wood reviewed this production at the Swan, Stratford, and Philip Fisher reviewed it when it toured to the Roundhouse, Camden.
Reviewer: Peter Lathan