A Midsummer Night's Dream
William Shakespeare
Headlong Theatre Company
Nuffield Theatre, Southampton, and Touring
(2011)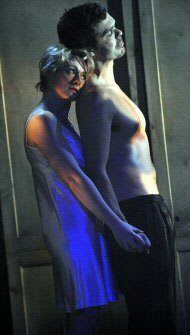 Headlong's innovative interpretation of one of Shakespeare's classic comedies sets the action within a 1960s Hollywood film studio, with all its glamour, glitz and razzmatazz.
Director Natalie Abrahami has inventively cast Robin Goodfellow (Sandy Grierson) as the weary, mogul film Director desperate to complete his epic movie.
The play starts with the movie titles from Athens Pictures projected onto the silver screen, a clever touch that created the mood for this very different Hollywood 'Dream'.
Justin Avoth is a splendid Oberon determined to get his revenge over his Diva wife, the impressive Emily Joyce, and her entourage of fairies who perform 60's pop songs and wear the most outrageous costumes, much to the delight and amusement of the audience.
The lovers Hermia (Faye Castelow) and Lysander (Oliver Kieran-Jones) and Helena (the fiery Deirdre Mullins) and her lover Demetrius (Max Bennett) become entangled in Puck's errors, resulting in comic chaos as the lovers fall in and out of love. The fierce spirited fight between Helena and Hermia was filled with passion.
In the middle of the forest the Mechanicals have been transformed into Hollywood 'wannabe' actors as they rehearse their play for the Duke's forthcoming wedding.
Christopher Logan's haughty Bottom is hilarious and his metamorphosis into the Ass produces some fine farcical moments.
The performance of Pyramus and Thisbe was pure slapstick comedy with a sterling performance from Michael Dylan as Thisbe, with the 'camp' Bottom trying to steal the scene, ably supported by David Shaw-Parker's Quince.
This was a brave, plucky and imaginative production, perhaps not one for the purists, but for sheer energy and gusto you had to admire this 'dream' of a show.
Touring to Ipswich, Hull, Salisbury, Glasgow and Cambridge
Kevin Catchpole reviewed this production in Salisbury
Reviewer: Robin Strapp