A Midsummer Night's Dream from the East
Based William Shakespeare
Yohangza Theatre Company
The Barbican
(2006)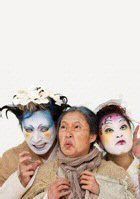 An enchanting magic embraced the Barbican theatre when the Yohangza theatre company, directed by Jung-Ung Yang, performed A Midsummer Night's Dream.
In brilliantly choreographed dance, mimes, songs and contemporised traditional Korean music, a South Korean cast of thirteen actors created a memorable production of a play inspired by Shakespeare's A Midsummer Night's Dream.
While Shakespeare's Dream is famous for not having a major source for the plot, although individual elements can be traced to classical literature, Yang's Dream incorporate themes and characters from Korean culture and folklore.
Dokkebi (Korean fairies) dressed in white a colour which in the Korean-Buddhist culture means assimilation with nature, dance to traditional song about their lives in the heart of a 1,000 year-old tree.
The audience familiar with Shakespeare's Dream would be forgiven for anticipating the appearance of Theseus, Hippolyta and Egeus. They never arrive. Yang disposes of the subplot and takes his mesmerised audience straight into the East Asian woods.
The only wood visible on the stage is the backdrop of a pinewood frame, designed to create a large window for the live orchestra and an elevated platform which runs along the sides of the stage. There is a hint of forest that can be seen at the back of the stage. However, that does not detract from the strong sense of being in the midst of a magical forest. The music, sounds of night animals, movements, lighting and the blue fluorescent bangles thrown in the air and then on to the audience, succeed in drawing the audience into a collective dream.
Yang reverses the roles Shakespeare originally allocated to Oberon and Titania. Oberon is renamed Gabi, superbly acted by Hae-Kyun Cheong while his wife Titania is reinvented in the form of Dot, which means fire, charmingly performed by Sun-Hee Park, as the chief of the Dokkebi (the equivalent of Western fairies).
Gabi is an almost incurable womaniser who sees his powerful wife as a nag. The witty Dot needs no hammer and tongs to teach her husband a lesson which will cure his straying eyes, just a touch of a herb, applied to his eyes to ensure he falls in love with the first thing he sees. She makes sure he sees - wait for it - not a Bottom turned into an ass, but an Ajumi (So-Young Park), an old lady and herb-collector, who has been transformed into a pig! So-Young Park's performance as Ajumi is astonishing. Like all the protagonists in this production she impressively dances, sings and plays musical instruments. She is not a young woman but her acrobatic ability inspires admiration and amazement.
Puck, reincarnated here in the form of Duduri, is Dot's jester/brother. Duduri are in fact a pair of twins, superbly performed by Hyun-Seok Chang and Jung-Young Jeon. Their white painted faces, like that of a clown, reflect moods and amuse. They are cheeky, merry and fabulously funny just as the "the merry-wanderer of the night" should be.
Yang renames all of Shakespeare's characters to coincide with Korean tradition. The costume designer Myoung-Ah Lee dresses the lovers in tops that reflect something of their characteristics and emphasis the opposite aspects of each couple that cannot exist without the other.
Hermia, Byeok, acted by the feisty Ji-Young Kim, enters the stage wearing an auspicious red top. She is the beauty and loved by all - that is before entering the dream. Her opposite and her love, Lysander, Hank (Seong-Hwan Lee) is dressed in royal blue. The red and blue in the Korean culture symbolise Yin-Yang. Her absolute loyalty and his attempted betrayal, that is until he is put on the right path when they exit the dream.
Helena, Ick, fabulously performed by Hyun-Sook Ahn, enters dressed in a yellow top which connotes royalty, propriety and luck. At the outset she is neither loved nor lucky but Dot, the powerful matriarch of the dream is determined to put things right. Her opposite Demetrius, here named Roo (Jun-Wan Kim) is dressed in a green top. He is nasty to Ick and initially abandons her in the woods to an unknown fate. Green represents a bad and disloyal person.
Once they have entered the dream, they are stripped of their coloured tops and clad in white, to show that they are immersed in nature where purity, innocence and morality might be found.
Here Cupid needs the assistance of the magic world of the forest in order to ensure that reason and love keep company.
It is unfortunate that this production had only four days run at the Barbican. However it is moving to the Tobacco Factory, Bristol, from Wednesday 5 to Saturday 22 July before travelling on to Germany.
Rivka also interviewed Jung-Ung Yang, the director and Pete Wood reviewed the production in Bristol.
Reviewer: Rivka Jacobson