Measure for Measure
William Shakespeare
A Theatre Royal, Plymouth and Thelma Holt production
Yvonne Arnaud Theatre, Guildford
(2009)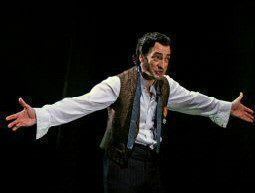 "A hopeless tangle of moral contradictions" was George Bernard Shaw's opinion of this play, and I have to say that I heartily agree with him. If Shakespeare was intending to portray all the vagaries of human nature, he paints a pretty bleak picture and if, as the flyer states, "it has a relevance to life in Britain today", the present depression becomes even more depressing.
It contains the corrupting effects of power, hypocrisy, lies, cruelty, deceit, illicit sex, cheating and selfishness. There is not an admirable person in it except perhaps for the two main women – one 'holier than thou' and the other 'hard done by'. Even the seemingly benign Duke, whose lax rule has allowed his subjects to lead lives of moral depravity, is not above snooping on private conversations, while leaving his puritanical deputy, Lord Angelo, to take the blame for the stern and cruel restoration of morality which follows.
"Shall we see if power changes purpose?" wonders the Duke (Alistair McGowan) as he hands over the reins, and it certainly does, as the self-righteous Angelo finds himself overcome by lust for novice nun Isabella, whose brother, Claudio, he has condemned to death for the sin of sleeping with his intended bride before the ceremony. In a remarkable display of double-standards, Angelo will withdraw the sentence if she will sleep with him, a promise which he breaks. This man is hard, ruthless and mercenary, having already rejected his intended bride, Mariana, for loss of her dowry, but she is conveniently to hand and, with the connivance of the Duke (now disguised as a friar), agrees to impersonate Isabella and take her place.
The tale is set in Vienna, and in Andrew D. Edwards' tall, dark and forbidding set figures scuttle about in the swirling fog, intent on their nefarious activities. A large, red-lit window opens briefly revealing its purpose as a brothel, and a rakish Lucio (Patrick Kennedy) emerges below bringing some welcome humour to the proceedings with his cheerful recounting of the many diseases he has encountered within.
The complexities of the story are not easily told, and the concentration needed to follow the plot caused the first act to drag, despite the speedily executed entrances and exits with each scene constantly overlapping the previous one, but in act two director Jamie Glover (making his directional debut) lightens and clarifies the action with plenty of Shakespeare's bawdy humour evident. There is lots of fun to be had too when Lucio accidentally meets the disguised Duke and gives opinion of his character, with McGowan's indignant expressions a joy to behold.
Comedy is very evident too in Eliot Giuralarocca's Pompey and Robert Goodale's Elbow, while Emma Lowndes' Isabella is consumed with passionate, righteous indignation at the idea that she should surrender her virginity just to save her brother's life. Claudio (Max Bennett) has a different opinion!
All are eventually united with their proper partners, but the idea of marital bliss does not sit easily as Angelo (Jason Merrells) is forced to marry Marietta (perhaps that is his punishment), and there is a definite "Mills and Boon" moment when the Duke, without warning, suddenly says "Will you marry me?" to Isabella, its incongruity causing a burst of spontaneous laughter.
A mixed bag of a production, which is not surprising considering the difficulty of its twists and turns of plot and the devious complicated characters, but it is totally engrossing, expertly performed, and leads to endless discussion about human nature and morality.
Touring to Cambridge, Wolverhampton, Aberdeen, then the Almeida Theatre
Reviewer: Sheila Connor