The Three Musketeers
Choreography, direction and costumes by David Nixon; music by Sir Malcolm Arnold
Northern Ballet Theatre
Sadler's Wells
(2007)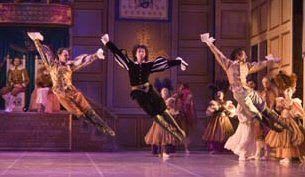 Athos, Porthos and Aramis befriend the young D'Artagnan, a country bumpkin, and defeat the wicked Cardinal Richelieu's dastardly plan to ruin the Queen's reputation.
Alexandre Dumas published the ultimate 17th century swash-buckling costume drama in 1844. Since then there has been an endless supply of adaptations: plays, films, musicals, cartoons and silly send-ups. And now there's a ballet aimed at a young non-ballet audience.
Dumas's adventure story has speed, pungency and humour. The trick for any adaptor is to get right the balance between action, romance, swordsmanship and knockabout comedy. Most scripts end up playing a secondary role to the spectacle.
D'Artagnan, the impetuous dashing Gascon, has been played by such actors as Lewis Waller, Douglas Fairbanks senior, Gene Kelly, Michael York and even Harry Secombe, who appeared in a musical at Drury Lane called The Four Musketeers. The best things about that show were Sean Kenny's massive set and Loudon Sainthill's lavish costumes.
If you don't already know the story, you will, almost certainly, have difficulty in following the plot. Who are all these people? What is going on? Why was the Queen so crass as to give her diamond necklace (a wedding anniversary present from her husband) to her lover, the English ambassador, no less, in the first place?
Patrick Howell is cast as D'Artagnan. Keiko Takahashi is cast as the plucky girl he fancies. The three musketeers are neither characterised nor differentiated, on the principle, perhaps, of all for one and one for all. The big disappointment, however, is Cardinal Richelieu whose presence should dominate the stage (as he most certainly did in real life). But he doesn't and the role is diminished to swishing on and off in a scarlet costme with train as if he was a relation of Ronald Firbank's Cardinal Pirelli.
The music is drawn from bits and pieces by the late Malcolm Arnold who was always going to write a score for The Three Musketeers but never got round to it. (Arnold died last September.) David Nixon's choreography is uninteresting and the production, fatally dull, is not enlivened by a bevy of washerwomen.
There is nothing here to complement the lavish masques which were produced at the court of King Louis XIII and in which he took part. He played the comic roles and, famously, appearing in drag. His son, the future Louis XIV, was a dance addict, too, and in 1653 at the age 15 he danced the Sun King in Le Ballet de la Nuit, hence his nick-name, Le Roi Soleil.
The Three Musketeers doesn't work as a ballet, except when the Queen (Chaki Nagao) and the English ambassador (Christopher Hinton-Lewis) are dancing. Their duets are the high spots.
Reviewer: Robert Tanitch