Madam Butterfly
Choreographed by David Nixon
Northern Ballet Theatre
Opera House, Manchester
(2006)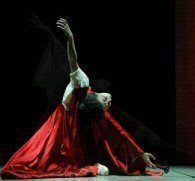 A show that begins and ends with the ritual suicide of Hara Kiri is never going to be an easy view. However Northern Ballet's production of Madame Butterfly is a fine piece of dance. Freely adapted from the better known opera by Puccini, Choreographer and Artistic Director of Northern Ballet David Nixon has crafted a ballet that expands some of the more minor roles to good effect. It was originally created for his wife, the acclaimed ballerina Yoko Ichino. It cleverly blends traditional western ballet with the stylised form of Japanese Kabuki theatre.
The story tells how Pinkerton, a callow American sailor, tricks a Geisha ­ Butterfly ­ into believing he has truly married her. She is distraught when he then leaves her to return to the USA. She bears him a son and waits for Pinkerton to return. However when he does some three years later it is with his new wife Kate. Butterfly gives up her child to the couple and retreats into the Japanese culture which she rejected when she liaised with Pinkerton. She ends by killing herself in the same ritual way that her father does at the start of the ballet.
Chaiki Nagao is a very graceful Madame Butterfly. She has expressive hands and arms that speak volumes. Darren Goldsmith as Pinkerton is charming but this reviewer felt that there was a lack of chemistry between these two leads. Worthy of mention from the other dancers is Pippa Moore as Suzuki Butterfly's maid. She has a sure comic touch and offered strong support.
The settings have a Japanese feel: much wood panelling and sliding frames. The foliage is cleverly implied and, in a lovely coup de théâtre, there is a dance amongst the falling shower of petals. The lighting is well done and quite subtle at times. Butterfly's final dance of Hara Kiri is bathed in a deep red.
Puccini's music is effectively adapted and contrasts well with the percussive Japanese sounds also used. The Northern Ballet Orchestra conducted by Music Director John Pryce Jones was on top form. The corps de ballet as well as the stars worked hard and told the sad story beautifully.
Northern Ballet which is based in Leeds but tours the whole country is back in the Opera House in Manchester in December with A Christmas Carol.
Reviewer: Andrew Edwards