Wuthering Heights
Choreographed by David Nixon
Northern Ballet Theatre
New Victoria Theatre, Woking, and touring
(2009)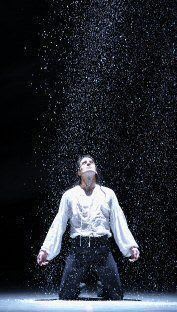 This is the first time I have managed to see the Northern Ballet Theatre and, even though I was aware of their reputation I was still blown away by a production which far and away exceeded my expectations.
They tell the story simply, expressively and with perfect clarity and as the adult Heathcliff Christopher Hinton-Lewis excels in what must be the most physically and emotionally draining role of all time. The wild Yorkshire moors, wreathed in mist, are realistically portrayed as he runs, leaps and spins - a tortured soul desperately searching for his lost love - before we flash back to the beginning of the story inside Wuthering Heights where the main characters are introduced, and the feral gypsy child becomes part of the family - loved by Cathy, hated by her jealous brother Hindley, cared for by housekeeper Ellen and corrected and instructed by sanctimonious, pious 'old retainer' Joseph.
The young Heathcliff and Cathy (danced exquisitely by Ashley Dixon and Pippa Moore) appear frequently throughout the show as memories of a lost, youthful innocence. Their dancing is wild and free and their bodies twist, writhe and intertwine in rough-and-tumble play, gradually softening as they become conscious of a growing. all consuming love.
Au Allen's sets unobtrusively melt one into another, with the opulence of neighbouring Thrushcroft Grange simply yet effectively depicted by gold curtaining and regimented rose bushes. The style of dancing changes here too from the unrestrained natural fluidity of Cathy and Heathcliff to the more formal stylised and precise steps of the privileged Linton family and guests. Even Heathcliff, returning from his travels now wealthy and genteel, adopts a more refined style, although his pas de deux with Cathy is lyrical and soft, while that with the besotted Isabella (Hannah Bateman) is stiffer, more formal, and hints at his impending underlying cruelty to one in his power but for whom he feels nothing but contempt.
There are some delightful touches of comedy from the maids and butlers - especially head maid Victoria Gibson, cheekily aware of her superior importance - and Hironao Takahashi as the besotted but cowardly Edgar raises a laugh or two, but mostly the audience is captivated and kept spellbound by the brooding intensity of Hinton-Lewis's performance, his dancing athletic, accomplished, and with frequent difficult and often one-arm lifts demonstrating exceptional strength combined with artistry. Martha Leebolt's Cathy is delightfully pert and pretty - with equally strong and accomplished technique and a perfect complement to her partner. She has really beautiful lines, particularly in lifted arabesque - and David Nixon's choreography challenges at every turn (he is also director and costume designer).
The twenty seven musicians of the Northern Ballet Theatre Orchestra (under the baton of John Pryce-Jones) perform Claude Michel- Schonberg's hauntingly beautiful score (his first for a ballet) and sweep the story along to its dramatic conclusion as, at Cathy's grave and with snow falling on Heathcliff's bowed head, the spirits of the two young ones dance on. Unforgettable!
Touring (with a varied programme) to Milton Keynes, Bradford, Sheffield, Nottingham, Leeds (including a 40th Anniversary Gala), Edinburgh, Nottingham, Llandudno, Hull, Glasgow, Cardiff, Leeds, Woking, Milton Keynes, Nottingham, Norwich, Sheffield, Manchester and Leeds again in December 2010.
Reviewer: Sheila Connor