Medea
Euripides, in a new version by Tom Paulin
Northern Broadsides
Oxford Playhouse and touring
(2010)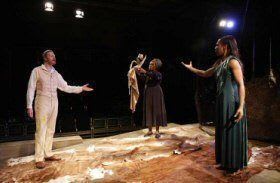 Neither an heroic or a noble tale, however well written and crafted, Euripides' play shines no credit on any of its protagonists. Perhaps that's why it only won him third prize at the Dionysian Festival of 431 BC, though a fifth century Athenian audience probably viewed Medea rather differently from the way we do today. She was, after all, a barbarian and a woman - neither of which would warrant much consideration in Greek society, though in his plays Euripides speaks up quite strongly for women.
Medea was the daughter of the king of Colchis (on modern Georgia's Black Sea coast) where her attraction to the Greek hero Jason led her to help him outwit her father so that he could obtain the legendary Golden Fleece, killing her brother to ensure their escape back to Iolcus (modern Volos in eastern mainland Greece) where its possession would enable him to claim his father's throne from a usurping uncle.
Married - at least in Medea's eyes - and with two little sons, they are in Corinth (in the Peloponnesos) where Jason is about to marry King Creon's daughter Glauce and gain himself another kingdom. Creon sees Medea's jealousy and her skills as a sorcerer as a threat, so she and her sons are to be driven out of the country... that's where the play begins.
Director Barrie Rutter has mounted a very straightforward production for Northern Broadsides and, with the help of Tom Paulin's vernacular but poetic translation, offers the clearest, most-direct telling of the story I have seen. You certainly don't need to be well versed in classical mythology to understand it. Cleo Sylvestre, as Medea's nurse, sets the scene by telling the back story to us. It is a good start as she connects with and draws in the whole audience with her direct chat. Medea has not yet heard about her and her son's exile, the boys' tutor (Fine Time Fontayne) comes on with news of that, but off-stage she is already screaming her anger about the forthcoming marriage.
Nina Kristofferson plays Medea mainly at full pitch, though I felt she was at her best when she reined back the bubbling anger allowing an upsurge of passion for her final scenes. It is no chance that both Kristofferson and Sylvester are Black actresses. No colour blind casting here: with the Corinthians played with Yorkshire accents (as befits a Northern Broadsides production) and the other Greeks RP this emphasises the difference of these 'barbarian' outsiders; in Paulin's version Medea describes herself as an 'immigrant.' There is an element of the sadness and the passion of the blues behind this performance which feeds across into the music given to the fine, well spoken three-woman chorus (Michelle Hardwick, Barbara Hockaday and Heather Phoenix) which grows naturally from the text. Medea, the sorceress, also has a snatch of voodoo or Macumba inspired dance when plotting her revenge upon Jason's new bride.
Less effective was the cacophonous music that accompanied the off-stage blood-letting near the end of the play and, while chorus and lesser characters slipping off to play the drums and other instruments ranged on one side of the stage it seemed decidedly odd for Medea herself to snatched up a huge pair of cymbals and clash them together to emphasis her strength of feeling for it took her momentarily out of the dramatic world that had been created.
This is a production that stresses the feminist element in Medea's backlash. Andrew Pollard's linen-suited Jason is dressed to look the innocent. He's marrying he says for the good of all of them, security for his sons and Medea should be happy - presumably if she wasn't being difficult they'd let her stay. He's a man: she should do what's she's told. She reminds him that without him he would never have got the Golden Fleece or been able to flee Colchis. Strangely, though when things get really nasty and he slings the death of her brother at her (which covered their escape), no-one mentions why they are in Corinth in the first place: Medea's scheming that killed King Peleas for which they were chased out of Iolcus.
Rutter's brown-derby wearing Creon looked more worried local councillor than regal but you can understand his concern at wanting to get this dangerous woman across the frontier as soon as possible, she's a potential terrorist. Later, playing the messenger reporting the agonies of Glauce and Creon, Rutter makes their horror even more ghastly by his restrained delivery.
Despite the naturalness of the language there is a sense of ritual behind this production. Contending speakers are sometimes placed on low pedestals to face each other opposing each other as though in some public debating place and the chorus stopping for a moment and turning in unison to the audience before speaking together.
The setting too may be intended to be symbolic. A golden shape and a series of poles that dominate the back of the set are perhaps intended to be a reminder of the Golden Fleece and the skins that cover the ramp up to them are later drawn away for what, when the production is running a little more smoothly (press night was only its second performance), could be a stunning effect. Perhaps it already works from the circle or a more central seat but Emma Wee has designed this set to fit a variety of theatre forms on its forthcoming tour and this stage may not show it at its best.
The horrors remain verbal ones. Unlike the last West end production with Fiona Shaw or last year's in the Scoop, there are no blood splattered children; in fact no children but symbolic red ribbons instead of Kensington Gore.
At Oxford Playhouse until 6th February; Belgrade Theatre, Coventry 9-13th February; Georgian Theatre Royal, Richmond 16th-20th February; Everyman Theatre, Liverpool 23rd- 27th February; Viaduct Theatre, Halifax 3rd-6th March; Citizens Theatre, Glasgow 9th-13th March; Stephen Joseph Theatre, Scarborough 16th-20th March; New Vic Theatre, Newcastle under Lyme; 23rd-27th March; The Lowry, Salford 13th-17th April 2010
Reviewer: Howard Loxton