Othello
William Shakespeare
Northern Broadsides and West Yorkshire Playhouse
New Vic, Newcastle-under-Lyme, and touring
(2009)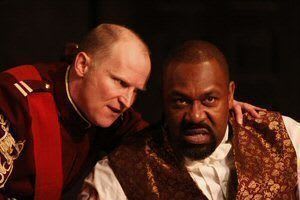 Watching the BAFTA TV spectacular at the weekend, I was struck by the immense pride shown by Lenny Henry when wife Dawn French and her comedy partner Jennifer Saunders went onstage to collect their Fellowship award. One of the qualities an actor needs to portray Shakespeare's troubled hero Othello, I thought.
Henry displays that same pride along with jealousy and many other qualities, proving that Northern Broadsides' artistic director Barrie Rutter was absolutely correct in casting the man known primarily as a comedian in his first Shakespearean role.
Henry has had to come an incredibly long way in a short time. It's only just over two months since he began playing the Moor and such has been the success of this production that it's destined for a three-month West End run from September. It's not difficult to see why.
At 6ft 3in tall, the Dudley-born Henry is an imposing figure and gives a towering performance. He struts, stomps and staggers around the theatre-in-the-round, his inelegance and awkwardness adding to the persona of the tragic hero.
He has the nature as well as the stature of a military leader yet he's equally impressive as the man "that loved not wisely but too well".
Would he have turned so quickly and so markedly after Iago had planted a seed in his mind about Desdemona's infidelity? Absolutely. This Othello is vulnerable because he's such a bad judge of character.
Occasionally Henry speaks too quickly or shouts a little too much for comfort. Most of the time, though, his deep, mellow voice penetrates every nook of the New Vic, especially in Othello's most distraught moments.
Most of the audience would no doubt have bought their tickets simply because of Henry, but Rutter has brought together an enthusiastic cast who throw themselves wholeheartedly into their roles.
While Henry gives a stunning performance in the lead role, there's also an astonishing performance by Conrad Nelson as Iago.
Nelson is simply the personification of evil. Shakespeare never tells us why Iago hates the Moor so much and in the past some actors have tried to show a softer side to the villain. But not Nelson. Iago does everything for his own ends and there's a hint that he wants to eliminate everyone in his path so that he can have absolute power.
His constant scheming leads him to treat his wife abominably, he callously mocks Othello after the General has an epileptic fit and he has no second thoughts about using anyone to further his ends.
Nelson's Yorkshire accent gives added momentum to Iago's evil: initially he seems a gritty, down-to-earth, trustworthy soldier; his unmasking appears all the more implausible.
Jessica Harris earns an incredible amount of sympathy as Desdemona. She shows she's deeply in love with the Moor, has real fear when it appears he may be lost at sea and displays the excitement of an infatuated teenager whenever she sees him in the early scenes.
There are also notable performances from Richard Standing as Cassio, impressively off his head during the drinking scene and beside himself when he's stripped of his command; Maeve Larkin as a feisty Amelia who doesn't readily obey husband Iago; and Rutter himself who as Brabantio is panic-stricken on hearing that his precious daughter has married the Moor.
Northern Broadsides show what can be done with a bare stage, few props and an unconventional exploration of Shakespeare's text.
Some of the New Vic audience were on their feet at the end. A worthy ovation.
"Othello" runs at the New Vic until May 2nd and tours to the Viaduct Theatre, Halifax from May 5th to 10th. It then transfers to the Trafalgar Studios from September 11th to December 12th.
Ray Brown reviewed this production at the West Yorkshire Playhouse. It was also reviewed by Anita Butler at Trafalgar Studios.
Reviewer: Steve Orme